Bangladesh fans, who greeted the opening of the World Cup with a glorious celebration and huge anticipation less than two weeks ago, turned on their own team in Dhaka on Friday as cheers turned to boos and angry recrimination.
Shakib Al Hasan's team were humiliated by a rampant West Indian attack, skittled for their lowest ever One-Day International score of 58 before falling to a nine-wicket beating.
The embarrassment of the co-hosts filled the Shere Bangla National Stadium like a bad smell with the very people who had hailed their team as potential world beaters on February 19 reacting with increasingly vocal disgust as the match drew on.
Mohammad Moudud, 30, a student of BRAC University, summed up prevailing feelings neatly: "They (Bangladesh players) still need to learn many things. They have just marred our party and the weekend."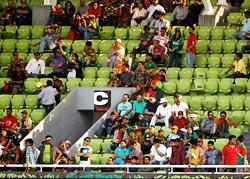 As Shakib's hapless men trooped off with heads kept low, fans tossed almost everything they could get their hands on -- caps, placards, logos, even jerseys -- to the outfield as a demonstration of their disappointment.
By the time the West Indian openers Chris Gayle and Darren Bravo returned to open the innings before their side went on to complete the formalities of the win, loud boos circulated the stadium, specially revamped for this tournament.
STILL REVERBERATING
Those jeers were still reverberating after the match as West Indian fast bowler Kemar Roach collected a second man-of-the-match prize for his three wickets and Shakib tried to explain away the rubble of his side's performance.
It had taken West Indies 90 minutes to polish off the Bangladeshis with a mixture of spin and pace and Darren Sammy's men took three-quarters of an hour and 12.2 overs to knock off their target.
For the record, Devon Smith was out for six, bowled by Naeem Islam, Gayle remained unbeaten for 37 and Bravo was nine not out.
Talk about a short day at the office for the visitors. Their hotel maids would barely have had the time to straighten up their rooms before they found them returning to put their feet up, grab a cool drink and watch the highlights on telly.
"We never thought we'd bat this poorly because we've been playing really good cricket for last the 12 months and we've been consistent with the bat," Shakib said, trying to make himself heard above the din of the crowd.
"I don't know (what went wrong). We have a lot of things to work on now. We have to sit down and think about it.
"But hopefully we'll come back strongly as there are three more games. If we want to qualify for the second round, we have to win two out of three. It is still very much possible."
Shakib, who conducted the interview with a good natured, slightly goofy, smile which, while earning points for good sportsmanship, may well have irked his supporters even more.
His opposite number Sammy was understandably in magnanimous mood, preferring to concentrate on his team's positives rather than the Bangladeshi ineptitude.
"It was a brilliant performance by my team mates. Chris Gayle gave us a little motivational speech before the game and I would like to thank him for motivating the boys to go out there and do the job they did.
"He said, 'do not take Bangladesh lightly'. We were a little flat during the warm-up and he didn't like that so he encouraged us to go out there and remember that Bangladesh will be coming hard at us so be ready. All the boys took to it and we did what he asked."
Whatever Gayle's talents in motivational speaking may be, he patently struggles as a fortune-teller. Bangladesh, as it turned out, could be taken very lightly indeed.
In the final analysis, both teams would be wise to take the result with a large dose of salt -- West Indies because they could have learned virtually nothing in such a rout and Bangladesh because otherwise madness lies.
The men from the Caribbean are now one or possibly two wins short of a spot in the quarter-finals although far tougher tests to come against England, India and Ireland having won handily against Netherlands but been well beaten by South Africa.
For Bangladesh redemption will only come with a win against England in Chittagong in a week's time.
As Shakib wryly remarked later, it is probably all for the best that they are now playing away from the capital.