Piyush Chawla may have earned rich praise for his match-winning performance with the ball against Australia in the warm-up tie of the 2011 World Cup in Bangalore, on Sunday, but his captain was still not satisfied.
Despite Chawla's effort of four for 31 in nine overs that set up India's 38-run victory, Mahendra Singh Dhoni says he expected some more from Chawla, with the bat too.
"Well, he has done really well in whatever games he has played. But I think he needs to contribute with the bat. One of the main reasons for his selection was our need to have a specialist spinner who could also bat a bit. If he could bat a bit better and contribute 15-20 runs then it would be good for the side. But as a specialist spinner he has done well in whatever games he has played," Dhoni said.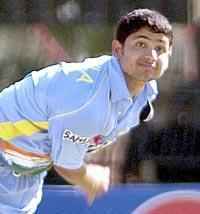 India's skipper also warned everyone not to take the victory too seriously, as it was just a practice game, and stressed that the Australians were trying out things at the cost of victory.
"For the warm-up games it is mentally difficult to prepare yourself. In a year, if you play 35-odd ODIs, 10 Test matches and 45 days of IPL and Champions League and then all of a sudden when you hear that you have a warm-up game and 15 players are playing in that game, it is a difficult scenario to mentally prepare yourself for the game. That was reflected on the field.
"But, still, if you see the positives in the batting, only two batsmen contributed and still we were able to get 215-odd runs. But I also think that in the middle, when we lost five wickets, the Australian team also backed off a bit, because it is a warm-up game and you don't want to risk injuries.
"So, I think, at the end of the day, it is a good performance, but I won't take too much out of it," he said.
Dhoni also pointed out that the good showing does not guarantee that India will play with three spinners at the World Cup.
"If you are talking about the spinner's role, we are talking about that extra spinner, who will be the fifth proper spinner. It will depend a lot on what type of wickets we get, because we were almost sure that this wicket would help the spinners as the game progressed. It was an ideal wicket for the spinners and all of them bowled well.
"Again, the selection of the second or a third spinner is a headache but a good one to have because more the options, the better it is for the team. Sometimes you may feel the selection was right or wrong because if it works it is the right selection and vice-versa. I think everything will depend on what kind of wicket is provided," he claimed.
Like South African skipper Graeme Smith who had slammed the Chennai wicket during the warm-up match played on Saturday, Dhoni too didn't seem satisfied with the pitch, terming it an ideal one for Tests than ODIs.
"I feel during the World Cup we will see slightly better wickets than this wicket. I am not saying this is a bad wicket, but this wicket should be provided for Test matches. It would be an ideal wicket for Test matches with the ball spinning after a couple of hours."
He also pointed out that Sachin Tendulkar and Zaheer Khan had minor niggles but their injury concerns are not serious.
"Sachin and Zaheer had very mild niggles, nothing serious about it. We had time, as I said, because a warm-up game is not everything and we provided them rest. Sachin will hopefully play in the next game in Chennai and it will be good for the Chennai crowd.
"We will see if Zaheer is 100 per cent then we will make him play. We want him to be fully fit for the first game and even if he misses the next game, I don't really mind it. The positives from the game -- catching has been good -- batting has to improve a bit. Maybe the mindset was not there or mentally we were not ready and that could be one of the reasons why we didn't do well.
"The spinners did a real good job for us and if we improve on the fast bowling department, and if that also contributes, it will be great for us," he added.