Where there is a will, there is a way!
And this certainly holds true for Australian veteran Michael Hussey. After his controversial omission from the 15-member Australian World Cup squad, it seems Lady Luck has finally smiled on him.
Rediff.com has learnt that Hussey could be sent in as a replacement player for the injured Doug Bollinger, who is set to return home with a left ankle injury.
A source close to the ICC confirmed that Hussey could make it to the World Cup, once the formalities are completed and cleared by the technical committee.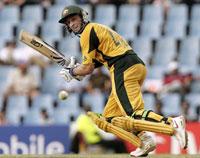 Meanwhile, Fox Sports also reported that Hussey, who is in his final stages of rehabilitation, got a phone call from Cricket Australia on the same.
"Initially I thought that you were in the initial 15 and if you were injured then you were pretty much out for the tournament, you can't be replaced," Hussey was quoted as saying.
"But I had a call from Cricket Australia saying that's not actually the case. If there was another injury, then, because I'm now fit again, I could be considered as the replacement player.
"You don't wish an injury upon anyone, but I guess there is a glimmer of hope now."