The wickets in the World Cup have so far spun quite a bit, but Australia is a balanced side when it comes to the pace-spin equation, skipper Ricky Ponting said, ahead of their first match against Zimbabwe in Ahmedabad.
"As we have seen in the tournament so far, the wickets have spun quite a bit," he said. "And there is no doubt that as the tournament goes on, in different venues, dew is going to play a big part as well."
But, nonetheless, on most occasions, spinners will play a key part, he added.
Zimbabwe, he predicted, will employ at least 40 overs of spin against the Aussies, and said his team is prepared to face it.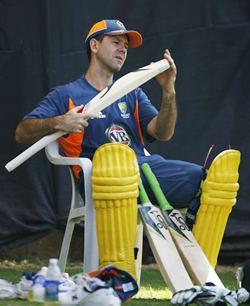 True to his words, during Sunday's practice session Australia had on the eve of the match, there were only two local lads bowling medium pace in the nets. The rest of the local boys and others, throwing down balls to the batsmen, were focused on spin.
Even Aussie pacer Mitchell Johnson bowled a lot of left-arm spin in the nets to enable his batsmen get a good look-in at slow bowling.
In this regard, Ponting believes Jason Krejza will be a key to the team's showing in this tournament.
"Jason Krejza performed pretty well in the second (warm-up) game against South Africa," Ponting said. "So, in Jason we know we have a very highly skilled off-spinner that is a wicket taking option for us; and if you look at our bowling attack we have a lot of those wicket-taking options."
He also said a lot of teams will look to chase targets in this World Cup, rather than bat first.
"You will probably see teams chasing totals here when they know it is going to get wet during the night," he added.
"That is when chasing gets a bit easier in this part of the world. (The dew) negates some of the spinners at different times and probably will make the wicket a little bit better to bat on."
Regarding the lack of spin options in Australia's line-up, Ponting said critics are overlooking the fact that the Australians are as balanced as any other side.
"It is true that most of the sides are packed with spinners. Australia has three genuine fast bowlers who can bowl at 90 miles an hour and are wicket taking options," he said.
Comparing his side's composition to the Indian XI that took the field against Bangladesh, he said: "It is true that we have only Jason Krejza and three fast bowlers. But look at the team that India fielded against Bangladesh. It had three pacers and one spinner. That is how most teams would look."
But the difference between Australia and the rest is in the quality of the pacers, he explained.
"Irrespective of how the pitches are, if our fast bowlers do well, they are a potent wicket taking option and teams will find it difficult against them.
"Further, in the India - Bangladesh match, India used Yuvraj Singh and Yusuf Pathan as part-time spinners. What the critics are overlooking is the fact that even we have good slow bowlers like Steve Smith, Michael Clarke and David Hussey. So, the balance is going to be similar, and, in reality, we are a really well-balanced side."
Photograph: Getty Images