Michael Hussey is "desperate" to return to the World Cup squad and has already started playing in the domestic circuit, his brother and Australian batsman David Hussey said on Thursday.
"He's (Mike) desperate to get back and play for Australia. He's back playing (domestic) Shield cricket at the moment. Mike would love to come over here and play," Hussey told reporters in Colombo.
The 35-year-old Mike, who was one of Australia's stars in their 3-1 defeat against England in the Ashes, was dropped from the country's World Cup side after suffering a hamstring injury.
But Doug Bollinger's ankle injury has given hopes to Mike of a return to the squad, which is currently in the sub-continent for the World Cup.
Cricket Australia, however, said they are in no mood to take a hasty decision and would weigh their options before brining in a replacement for Bollinger, who returned home.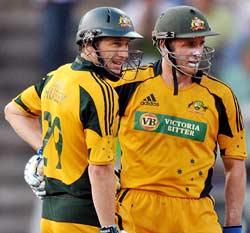 "If I was the chairman of selectors, I'd definitely choose Mike first and foremost," said David.
"It would be a little bit more special if Mike can come over and play," he said ahead of their clash with Sri Lanka at the Premadasa Stadium on Saturday.
David feels spin would pose a challenge for Australian batsmen, who had been training hard to prepare themselves for the Sri Lankan spinners, including Muttiah Muralitharan.
"Murali is such a great bowler. But Australia's had pretty good success against Murali in the past," he said of the legendary spinner who has 800 Test and 523 One-Day International scalps to his name.
"We've had three very good days of preparation. A lot of the boys are practising sweep shots and using their feet to the spin," Hussey said.
The 2006 champions Sri Lanka will also be boosted by the return of Lasith Malinga, who notched up his second World Cup hat-trick on Tuesday and David said Australia have to watch out for the slinger.
"Just watch the ball as hard as you possibly can and hopefully your instinct takes over," said Hussey.
Malinga returned with a career-best six for 38, including a hat-trick, during their nine-wickets win over Kenya.
"He's (Malinga) a world-class bowler at the death... bit similar to Shaun Tait. I know Brett (Lee) and Shaun both talked at length yesterday about bowling at the death and getting the ball going reverse."
"We've got two of the best death bowlers in the world who bowl fast at 150-plus kilometres and bowl decent reverse-swing," he added.
Photograph: Getty Images