Former India captain ANIL KUMBLE says India should ideally go with Zaheer, Munaf, Harbhajan and Ashwin for the crucial World Cup match in Chennai on Sunday.
India's last league game against the West Indies in Chennai on Sunday, their most important match so far, would be the perfect place to pull something different and open with a spinner.
Given the nature of the Chennai wicket, low and slow and with something in it for the bowlers, it would be a good ploy to open against someone like Chris Gayle with an offie like Yusuf or Ashwin, with Zaheer at the other end.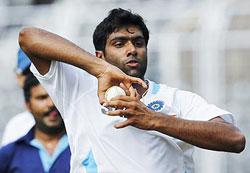 In fact, I think Ashwin should definitely play, both given how the pitch has behaved and, given his advantage of being a local. India should ideally go with a 2-2 combine here and my pick would be Zaheer, Munaf, Harbhajan and Ashwin.
This whole event is really going to come down to how the bowlers do and it's high time they started winning matches. It's not enough to expect the batsmen to put enough on board to put it beyond the opposition.
As things stand, given the efficacy (or lack of) of the Indian bowling, and the perennial problems in the fielding department, which now seem to have just been accepted as being below par (always a dangerous situation), a "beyond the opposition" score is always dicey. And then you might have days like against South Africa, where even the best of starts doesn't necessarily guarantee even a halfway decent finish. The West Indies, with players like Gayle and Pollard, can never be underestimated. So the bowlers have to raise the bar.
Although there has been a lot of talk about the need for changes in the batting department, I'm not for it at all. Look at South Africa, JP Duminy's, not really been among the runs, but he got them out of a spot of bother and took them to a respectable score. Yusuf Pathan's much like that and has won games for India in the recent past coming out of really tough situations. So, people saying that he needs to be dropped are just very strange. We have a real problem of short memories here in India.
Cricket, ultimately, is a team game and that's what we (and the team) have to remember. There are any number of brilliant individual performances, but ever so often, the team's performances as a whole does not match up. And, in the final analysis, the team that might be less flamboyant but more consistent under pressure will win.
India have had a decent enough break to iron out any issues, probably more mental than physical. From here on though, there aren't too many rest days, so they just have to be completely focused on winning and winning well, not just getting by. While they, unfortunately, have lost the opportunity to control who they will play in the quarter-finals, India can make a statement with this game. Irrespective of whether they need to win or not to qualify, it's always nice to go into the quarters with a victory behind you and if it's a sublime win, so much the better.
HAWKEYE COMMUNICATIONS / CHIVACH SPORTS