England's disturbing injury toll in their interminable one-day series against Australia has thrust one of their Ashes heroes into a new and unexpected role.
Jonathan Trott has made the England number three spot his own after scoring a century in a winning cause on his Ashes debut at the Oval in 2009.
Unbeaten innings of 168 and 135 in the recent Ashes triumph confirmed Trott's hunger for batting. Then, just to confirm his appetite was not sated, he scored his second one-day hundred to help his side to a 21-run victory at the Adelaide Oval. It was England's solitary win in a 6-1 series drubbing.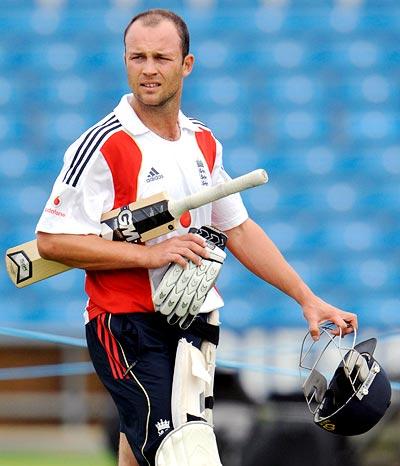 Trott's calm authority and his unrelenting concentration make him a batsman who can anchor the innings at the World Cup while his team mates play their shots.
As a bonus, he also took his first two one-day international wickets in Adelaide during seven overs of medium pace and said afterwards he was delighted with the opportunity to display his all-round skills.
Trott claimed important wickets in the shape of Cameron White and David Hussey after England had gone into the match with only three frontline bowlers.
"Obviously I'm in the team to get hundreds," he said. "I was very happy to do that and set up a very good total, one we felt we could defend.
"When called upon to bowl it is always nice to contribute as well. I know how cricket can be, it can be a nice game and it can be a horrible game sometimes."
COLLINGWOOD REPLACEMENT
England have relied on Paul Collingwood to bowl any extra overs over the past decade in their one-day side and also used him as a change bowler in the test side.
Collingwood has now called time on his test career and Trott is his obvious replacement when Strauss looks to rest his specialist bowlers.
"I've had a chat with (bowling coach) David Saker and we're going to work hard at that," Trott said. "If I could bowl like Colly has in this tour then definitely I can help the side."
Trott, 29, was born and brought up in South Africa and is a distant relation of Albert Trott, the only man to hit a six over the Lord's pavilion.
After signing for Warwickshire he forced his way into the England team by sheer weight of runs, scoring a crucial century at the Oval in 2009 in a match England needed to win to regain the Ashes.
He endured testing tours of South Africa and Bangladesh last year but fought back with a marathon 226 in the return series against Bangladesh at Lord's.
Trott averages over 60 in test cricket and more than 50 in one-day matches. His fielding has vastly improved and England team director Andy Flower singled him out during the Ashes as an example of his team's work ethic.
"Those on the inside know that Trott has worked incredibly hard at his fitness and fielding this past year and, when it comes together, that is an example of something that makes me proud as a coach," said Flower.
A similar improvement in his bowling would make Trott an even more valuable member of a injury-stricken side who will need everything going for them if there are to prosper at the World Cup.