England [ Images ] off-spinner Graeme Swann [ Images ] will be out with a bruised left knee for up to two weeks, the team's coach Andy Flower [ Images ] said.
Swann hurt his knee in last Wednesday's first Twenty20 [ Images ] international against Australia [ Images ] and will miss Friday's second One-day International against the visitors.
"He has got a slightly strangely deformed kneecap on his left knee," Flower told reporters.
"He got hit and it is badly bruised and it is quite painful so he won't be playing in this game and might have to rest for 10 days to two weeks.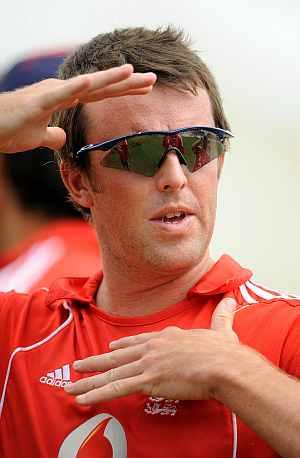 "That does give (James) Tredwell the opportunity depending on whether we want to pick two spinners or not," he added.
James Anderson [ Images ] and Stuart Broad [ Images ] will be back in Australia on Friday to join the touring squad, Flower said.
Anderson was given time off after England's Ashes triumph while Broad suffered an abdominal strain during the second Ashes Test in Adelaide last month.
Broad is unlikely to take part in the one-day series against Australia but has been named in England's squad for the Feb. 19-April 2 Cricket World Cup in India [ Images ], Sri Lanka [ Images ] and Bangladesh.
"It is better for him (Broad) to be out here rather than being in the middle of an English winter," Flower said.