If South Africa was able to restrict India to under 300, it was mainly due to the bowling of Dale Steyn, says JACQUES KALLIS.
There is one quality about the current South African team which, perhaps, can't really be seen or understood by those outside the squad.
It is belief -- not just in ourselves as individuals -- but in each other.
Even in the extreme and seemingly hopeless situations, we expect someone to put their hand up, take responsibility and change the situation. We fully expect someone to do that. The first thing we do, as individuals, is look to ourselves and ask whether we can change the game. If not, we give our full backing to our teammates.
So, when India reached 270-1 and, no doubt commentators were (understandably) talking about them reaching 400 (!), we had never given up hope.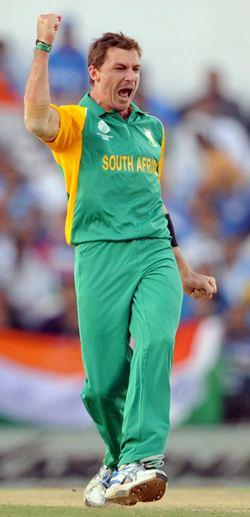 Even when things seemed most desperate, I had the confidence that somebody would change the course of the game. I had absolutely no doubt that we would restrict India to.. may be around 330!
To bowl them out for less than 300 exceeded even my greatest hopes. It just showed why Dale [Steyn] is the best bowler in the world at the moment, and has been for a couple of years now.
What's the difference between a really good bowler and a great one? You can, eventually, subdue a really good bowler and get on top of him, especially as he gets tired. You can never do that with Dale. He's as likely to get you out with the new ball as he is with one that is 100 overs old in his sixth spell.
It was a relief to contribute some runs from my own bat for a change after making just 20-odd in the first three games! There's no doubt that conditions changed significantly during the second innings and that batting was more awkward; so to chase down 297 was a fabulous effort!
It was one of those great games (for us, at least) after which every member of the team could say they had contributed something significant to the victory. But it wasn't just the eleven who could take a great deal of confidence out of the game; it was the whole squad -- including coaches and management.
And judging from the amount of phone, e-mail and text messages I received, there are quite a few thousand supporters back home who are also a bit more confident about our ability to play and win on the subcontinent now.
I felt sorry for Imran Tahir when he was left out of the team because he was desperate to play and convinced that he was fit enough. But if he had been hit on the thumb during the game and ruled out of the rest of the tournament then... it doesn't bare thinking about.
Now, with a decent rest, he'll be fully fit for the rest of the tournament.
- HAWKEYE COMMUNICATIONS / CHIVACH SPORTS