The heavier your bat is, the bigger shots you can play.
That seems to be the motto of a few Indian batsmen going into the World Cup.
According to sources within the team, as many as four Indian batsmen have opted for heavier bats for matches in cricket's flagship event.
As expected, it is Sachin Tendulkar, already accustomed to playing with heavy bats, who takes the lead in this regard.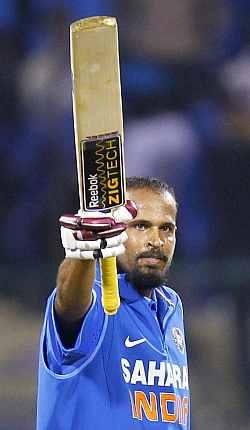 Besides the Master Blaster, captain MS Dhoni, opener Virender Sehwag and the hard-hitting Yusuf Pathan have chosen to follow suit.
All the four players mentioned have increased the weights of their respective bats to the tune of 60-70 gms.
The reason for the same being simple -- it is akin to the horses for courses dictum.
Considering the fact that the wickets in the subcontinent are on the slower side and the ball doesn't come to bat as quickly as expected, a heavier bat enables a batsman to go for a big shot without fearing the consequences.
The idea is to take advantage of the Powerplays and ensures the team benefits the most during the period; for this happens to be phase when you can actually take the match away from the opposition.
So while most expect the Indian batsmen to ensure a run feast, the latter have ensured that they at least go into the field well-armed for the same.
Get ready, therefore, to witness some heavy hitting starting Saturday -- when India play Bangladesh in the tournament opener.
Or shall we say heavier hitting?