West Indian legend Vivian Richards feels that Indian cricket team has improved in the fielding department in recent times and that increases the chances of Mahendra Singh Dhoni's men lifting the World Cup.
"India has improved in the fielding department recently. I see a change in psyche among the Indian players. Today the players are more committed on the field. People like (coach) Gary Kirsten should be given credit for that," Richards said while participating at a cricket programme "Power Play" in Kolkata on Sunday.
"I think a good fielding unit will win this World Cup," said Richards, considered the most destructive batsman of modern cricket.
Richards also praised Dhoni for his leadership skills.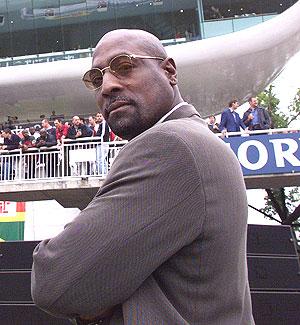 "If you are a leader, you have to perform. And Dhoni is leading the side from the front."
Former Australian captain Steve Waugh also agreed with Richards on the best fielding side having the highest chance of winning the February 19-April 2 event.
"Fielding is going to be an important factor in this World Cup. Catching, run-outs will play important roles. The best fielding side has the most chance of winning," said Waugh.
"India has a good chance to win the World Cup. Another favourite is Australia. Brett Lee brings a lot of aggression to the Australian attack," he said.
Waugh said he is "sad" that Eden Gardens will not be hosting an India match during the World Cup.
"I've special feelings for Eden Gardens ... some great memories about this ground. We won the 1987 World Cup here and there is that 2001 Test," he said.
Former India captain Sourav Ganguly, who was also present on the occasion along with 1983 World Cup winning skipper Kapil Dev, talked about this World Cup being an open one and said it is unlikely a rank outsider can make it to the quarter-finals.
"I am not a believer of the term, favourite in any sport. I think the sides led by Clive Lloyd (West Indies of 1975 and 1979) and Steve Waugh (1999) could have been favourites but there was none after that. I think all the good teams will reach the quarter-final."