Castrol India roped in Australian speedster Brett Lee as its global brand ambassador for the next two years.
In his role as brand ambassador, Lee will spearhead Castrol's above the line and below the line brand activities including its initiatives in the digital space which includes www.castrolcricket.com – the home of the Castrol Index.
Lee launched Castrol's signature tune for the Castrol Index, which will be played live in all stadiums of the World Cup where the Castrol Index will be shown live during matches.
The tune has been composed and recorded by Lee's band -- White Shoe Theory.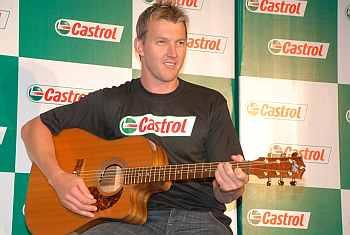 Commenting on the partnership, Lee said, "I am really excited to be signing up with Castrol as their Brand Ambassador. Castrol has built its brand around passion, and performance, values which are very much similar to the way I play and perform.
"Their initiatives in digital space are really innovative. I have not seen any measure for bowling performances like the one in the Castrol Index. The Castrol Index's Bowling Efficiency can combine the number of wickets I take, the quality of those wickets and my economy rate and tell me how well or not so well I bowled. This kind of analysis and insights help me evaluate and improve my performance."