Having lost seemingly innocuous contests to minnows Ireland and Bangladesh, and only managing a tie against India, the three-time finalists have to beat the West Indies at all costs in their final group game at the M Chidambaram stadium in Chennai on Thursday.
Andrew Strauss's team now has five points from as many games and a win against the Caribbean will be enough to seal a knock-out berth.
A loss, on the other hand, will ensure Bangladesh's qualification for the last eight.
- Team India not quite there yet!
The captain is aware of the precarious situation that his team is in.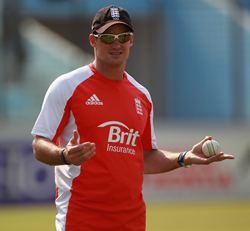 "For us the key is to stay in the tournament; we want to be one of those teams that can win it," said Strauss, on the eve of his team's final league match.
The captain was quick to exude some confidence though.
"It is a one-off," he said, regarding the match, adding, "And, hopefully, it is the start of a series of one-offs.
"I think there are a few butterflies in the stomach and I think that's a great sign for us." Strauss felt England have cultivated a big match mentality over the last few years.
"We've played well in big matches over the past couple of years," he said, adding, "The equation is very simple; this isn't the time to go into our shells, we need to go out there and take the West Indies team on.
"I think mindset-wise that really helps you.
"I'm genuinely excited about it and I think we've got nothing to fear."
Though he tried to put up a brave face, Strauss couldn't help lament the twin losses against the minnows.
"We've lost two games that we shouldn't have lost," he admitted, adding, "And that's disappointing.
"We've played some good cricket and we've played some poor cricket. And now we have to win this game at any cost."
England's captain admitted fatigue is one of the main reasons behind his team's under-performance -- the English team landed in India just five days before the World Cup, immediately after their three-month trip Down Under.
"Yeah, fatigue has affected our performance to a certain extent," said Strauss, adding, "Because we have been on the road for a long time.
"But fatigue is the last thing on our mind at the moment as potentially we have got four more games to play before we can comprehend a nice long break.
"We know what the prize there is, we are determined to make the most of the opportunity and take that prize. Fatigue not an issue for us at the moment, and it won't be until right at the end of the tournament."
Despite his team failing to live up to its pre-tournament billing, Strauss was confident all is not over.
"There is no reason to doubt ourselves, we should go out there and play good attacking cricket," he said, adding, "Once a team gets into the last eight, every game is a must-win game.
"I've got every confidence we can do that."
What is important for Strauss and England though is they reach the last eight first.
And that, at the moment, seems a tough ask, especially against a West Indies side that has been impressive thus far in the tournament.