England is the new Pakistan. Mercurial, volatile, unpredictable, magical, and every other adjective that was applied till now to Pakistan must now be handed over to this English side.
No team in recent memory has given us a string four of matches like this side has. The close finish against the Netherlands, the tie against India, that loss against Ireland and then today's match.
What would have made this win even sweeter is the fact that it was the bowlers, who had in the last three matches let the team down badly, who stood up and delivered. (In the last three matches, England's bowlers conceded close to 1000 runs, which is more or less what their batsmen scored in those matches).
At the same time, South Africa firmly reinforced their credentials as sole owners of the C-word, as they contrived to dig themselves in deeper every time they had a chance -- first, after Smith and Amla had given a good start, they lost four wickets for three runs in the space of 30 balls to go from 124/3 to 127/7, and then again towards the end, when with 12 needed off four overs with three wickets in hand, they just couldn't hold their nerves and fell short by six runs.
Almost all of England's frontline bowlers excelled, but if one has to be singled out, it has to be Stuart Broad, who finished with 4/15 by scalping two top order wickets and two tailenders in typical fast bowler's fashion.
South Africa started steady with Smith and Amla putting on 63.
Though that partnership put the South Africans in front, Smith was always unsure against Swann, who was introduced in the seventh over, and straightaway got the ball to turn square and bounce. He let a lot of away spinners alone and there was a brief flash as he lofted him on the off side for a four, but Swann had the final laugh. He got one to bite the surface and jump at Smith, who looked to block it. 
Prior was quick with the gather and bowler and keeper went up in appeal. After multiple views and zoom-ins, the third umpire decided he had seen enough evidence to over turn the on field umpire's not-out decision.
Soon, Broad, coming off from an injury and a tonking in Bangalore, kicked off South Africa's top order slide here, by bowling Hashim Amla, who was by a distance the most sorted player from either side.
To an extent Amla brought about his own end as he fell to a new malice plaguing limited overs cricket.
Though the nurdle to third man has been around for a while, recent months have seen the birth of a new variant: the nudge through vacant slip. The nurdle is relatively safe because even if it is not done correctly, most times there isn't any slip and the batsman gets away.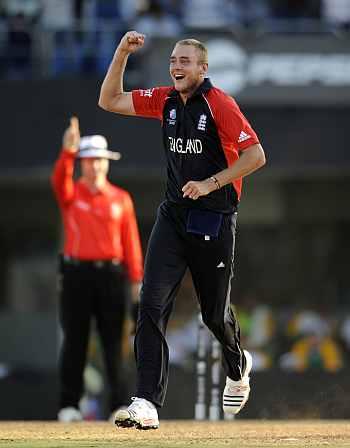 But this new shot is mostly employed against the straighter ball and since it has to be played with a straight backlift, it comes with the high risk of you chopping the ball onto your stumps if you are beaten for pace. 
That is what happened to Amla, a player who does not need a shot like that in his repertoire. He shaped up to play it to a straight one from Broad, who must definitely take the credit for generating the pace for which the batsman was beaten.
Soon, Kallis edged one to Prior and the only doubt was if he the 'keeper took it clean. He said he did, and Kallis walked. 
AB De Villiers and Francois Du Plessis added 42 and at 124/3, it was all but over. But then South Africa contrived to make this match interesting.
First to go was AB, bowled by Anderson. He pitched one short of length, AB was caught in two minds before deciding to see it through to the 'keeper, which he did, but not before the ball had clipped the bails on its way. 
In the next over from Swann, Du Plessis skipped down to flick the first ball off his pads. Ian Bell, who was doing duty at short leg, flicked the ball back on to Prior who removed the bails in a flash.
With that wicket, England became the first team to dismiss five South Africans in this world cup. There was more to come.
In the 34th over off Anderson, JP Duminy won a successful review after the ball went down the leg side and an appeal was upheld on the field. But by the time he won the review, Duminy's concentration had wavered, and to add to his woes, Anderson's next was unplayable swinging yorker that homed in on the off stump and uprooted it.
By now three wickets had fallen and the score had not moved.
Soon, Yardy got into the act, as he had South Africa's bowling hero Peterson caught behind.
But Steyn and van Wyk put on 33 runs just so the faint hearted could catch their breadth. In the 46th over, with SA needing 12 off 23, van Wyk shaped up to slash the ball on the off side, but froze as the ball hurried on to him, and only managed to bottom edge it on to his stumps.
Though Broad did the damage, credit is also due to Swann, who was magnificent, hustling through his overs, and getting the ball to bite the surface and turn square. If England yet make it to the quarterfinals, he might turn out to be a handful for even the Asian countries.
England innings
Earlier, England got off to such a disastrous start that it made you wonder if they had run out of juice following the Ireland match.
It was like this: When you expect to face a beefy 200-pound bully in a dark alley on a moonless night, but are instead faced by a scrawny cripple in broad daylight, the unworthy opponent may well land a blow or three because you were not expecting him.
That's exactly what happened to England when they faced South Africa in their crucial Group B encounter in Chennai.
It was a huge match for England, whose thrill-a-minute world cup campaign, though exciting to watch, has not taken them anywhere in the points table.
As Strauss took guard, he must have been shocked to see not the fast approaching blur of Dale Steyn, but the wiry Robin Peterson skipping in with his slow left arm spinners.
The way Strauss and then Pietersen – a tame prod to slip off a stock ball that turned away from him fractionally – played, it was clear that not only were they not prepared to face Peterson, but they were also not quick on their feet to device a strategy against the spinner.
That first over meant that Jonathan Trott and Ian Bell were virtually opening the innings for England against Steyn.
Bell started adventurously as Steyn dug one in short, as he swiveled into position quickly for a savage pull.
The fifth over of the innings -- Peterson's third -- was the first time Bell faced him. Peterson spotted him skipping down the track and dropped the ball just short enough so that it met Bell in no-man's land. He fended it awkwardly and as the ball ballooned in front of the wicket, Peterson threw himself full length to his left to take a spectacular catch.
At the end of 6 overs, England were 15/3. Peterson's first spell read like a football team's attacking formation: 4-2-4-3.
That clever spell meant Trott and Ravi Bopara used up the first 15 overs building the innings from the scratch, rather than setting the platform for the middle overs.
The two spent 25 overs at the crease to accumulate 97 runs for the fourth wicket.
In this period Smith switched his bowlers around quickly in two-over spells looking for a crucial breakthrough.
 The sense of urgency he showed finally paid off in the 30th over, when Imran Tahir got one to bounce marginally more than usual. Trott, who had throughout this innings tried to come down to the pitch of the ball, fended it not unlike what Bell did with Peterson, and was dismissed in the same fashion: The bowler going full stretch to his left to pouch a stunner.
Smith never kept a bowler on for longer than 3 overs at the most. And he used seven of them. At the end of the 35th over, he had them evenly spread and the bowling card read 7,6,4,4,5,5,4. Thus, even when there were two set batsmen at the crease, they could never get into any kind of rhythm and truly get on top of any one bowler.
Morkel emerged from Smith's bowling carousel in the 36th over and bowled to Prior, who was looking to up the tempo, the kind of ball that immediately gets writers to resort to clichés, because there is no other way to describe it.
Morkel bowled it from close the stumps and pitched it at that nagging length patented by Glenn McGrath and got it to climb on Prior, who stood rooted and tried to fend it away from his body, resulting in a thin edge to the 'keeper.
Despite Peterson's early harvest, Morkel was the standout bowler today. He was immaculate, keeping it just short of length and generating good pace and bounce. There was not a chance for the batsmen to either free their arms or even get on to their front foot. 
Especially in his second spell, England's lower order have found him virtually unplayable.
At this point, Bopara was England's only hope of reaching 200, but in the 38th over, Morkel pitched one in line with the off stump about a couple of inches farther than his bread-and-butter length and got it to jag back into Bopara, who was caught at the crease. The onfield umpire gave him out LBW, and Bopara had no luck with his review.
While Morkel was concentrating on length and was happy to let the pitch do the rest, Steyn got the very first ball of his last spell to reverse in the 39th over. It pitched short but did not bounce too much and trapped Bresnan in front of the wickets.
From there on, the end of the England innings was a formality as they finished at 171.