Gearing up for a short tour of India, Pakistan cricket coach Dav Whatmore has warned his team against reading too much into the arch-rivals' struggle in the ongoing home Test series against England.
"We should not be complacent at all because of India's recent form against England. The fact is that the English team is playing professional and well at the moment and India have a big challenge to square the series," Whatmore said on the first day of a week-long conditioning camp set up in Lahore for the tour to India from December 22.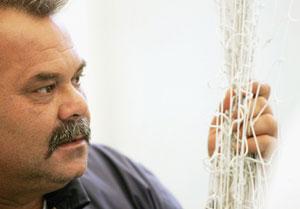 India are currently fighting to save the series in the fourth and final Test after conceding a 2-1 lead to England.
"But I wouldn't read too much into it because the results of one Test series doesn't necessarily mean that India is a weak side as we all know how good they have been over many years," he said.
The former Australian Test player also felt that off-spinner Saeed Ajmal would continue to be Pakistan's trump card even in the coming T20 and ODI series against India.
"Obviously we will select our playing eleven and bowling attack after seeing the conditions on the particular day of the match. But feel we've enough boys in the group to satisfy the requirements of any conditions," he said.
Whatmore said Saeed would remain a threat for India even in their home conditions.
"If you recall Saeed bowled very well against India in the 2011 World Cup semifinal," Whatmore noted.
"A series against India from Pakistan's point of view is always important and since this is a bilateral series after five years it is going to be a challenge for everyone. But the truth is that I am looking forward to it and am very keen to do well," he said.
He said it should be a exciting series since the players of both sides had mutual respect for each other's abilities.
"I saw that when we played them in the Asia Cup in Bangladesh and than in the World T20 Cup in Sri Lanka," Whatmore said.
Pakistan incidentally lost both the games.
He said what was unfortunate that some people try to build up an Indo-Pak series as something different and not cricket.
"But that's the way it is. We are very keen to play our neighbours and we are looking forward to it very much. It will be an experience, particularly playing in India, where the fans are also very keen to come out and have a look and support their team," he said.
Photograph: Tom Shaw/Getty Images