A sparkling century from opener Vusi Sibanda propelled Zimbabwe to a seven-wicket win and a series victory over Bangladesh after the third and final one-day international in Bulawayo on Wednesday.
Set 248 to win, Zimbabwe never looked in trouble with Sibanda leading from the front. He hit the winning runs to go to his second one-day international century off 135 balls, with nine fours and two sixes, as he finished unbeaten on 103.
Sibanda was given excellent support by Sean Williams, who went to his second half-century in as many matches and finished on 55 not out.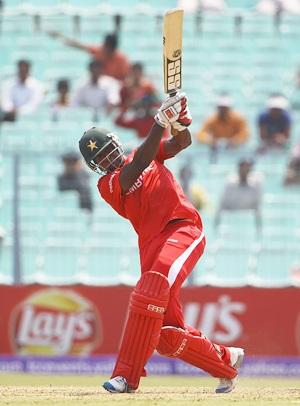 "To lose so convincingly in the first game and come back and put together two important wins shows a lot of character and that we are moving in the right direction," said Zimbabwe skipper Brendan Taylor.
"We have always rated Vusi Sibanda very highly, I think it has been seven years since his last hundred so we are pleased for him. I am sure he will kick-on now."
Asked to bat first, Bangladesh were reeling at 110 for five wickets before Nasir Hossain (63) steadied the innings in partnership with Mahmudullah who hit an unbeaten 75.
Their efforts took Bangladesh to a respectable 247 for nine but it was a target that Zimbabwe always looked likely to chase down.
Sibanda and Hamilton Masakadza (41) put on 79 for the first wicket as Bangladesh battled to get the early wickets they needed on a flattening pitch.
"We didn't bat well again and they made early inroads into our top five. I thought we bowled quite well, but we were 20 or 30 runs short. The wicket got flatter in the second innings and it is never easy to beat them at home," Bangladesh captain Mushfiqur Rahim said.
The teams now play a two-match T20 series on Saturday and Sunday, with both games in Bulawayo.
Scorecard
Bangladesh:
Tamim Iqbal c Taylor b Chatara 32
Mohammad Ashraful c Sibanda b Vitori 5
Jahurul Islam b Vitori 0
Mushfiqur Rahim c Chatara b Utseya 32
Shakib Al Hasan c Sibanda b Williams 18
Nasir Hossain c Taylor b Jarvis 63
Mahmudullah not out 75
Ziaur Rahman c H Masakadza b Chatara 5
Abdur Razzak c Taylor b Jarvis 4
Shafiul Islam run out 1
Extras: (lb-1, w-9, nb-2) 12
Total: (for nine wickets, 50 overs) 247
Fall of wickets: 1-15, 2-15, 3-77, 4-84, 5-110, 6-189, 7-194, 8-211, 9-247.
Did not bat: Robiul Islam.
Bowling: K. Jarvis 10-0-63-2 (w1), B. Vitori 9-0-43-2 (nb1, w5), E. Chigumbura 0.5-0-2-0, H. Masakadza 5.1-0-16-1, P. Utseya 9-1-34-1 (w1), T. Chatara 10-0-59-2 (nb1, w2), S. Williams 6-0-29-1.
Zimbabwe:
V. Sibanda not out 103
H. Masakadza c Mushfiqur Rahim b Robiul Islam 41
Sikandar Raza c Nasir Hossain b Ziaur Rahman 37
B. Taylor c Mushfiqur Rahim b Mahmudullah 2
S. Williams not out 55
Extras: (lb-7, w-5, nb-1) 13
Total: (for three wickets, 47.1 overs) 251
Fall of wickets: 1-79, 2-135, 3-142.
Did not bat: M. Waller, E. Chigumbura, P. Utseya, K. Jarvis, B. Vitori, T. Chatara.
Bowling: Shafiul Islam 10-0-58-0, Abdur Razzak 10-1-44-0, Robiul Islam 7.1-0-45-1, Ziaur Rahman 5-0-25-1, Shakib Al Hasan 9-1-43-0, Mahmudullah 6-0-29-1.
Image: Vusi Sibanda
Photograph: Matthew Lewis/Getty Images