Sean Williams smashed a career-best unbeaten 78 as Zimbabwe levelled their one-day international series against Bangladesh with a six-wicket victory on Sunday.
Put into bat by the hosts, Bangladesh rallied late in their innings to post 252 for nine wickets, a par score on a good batting track. Despite some jitters along the way, Zimbabwe chased down the runs with 13 balls to spare.
Zimbabwe were outclassed in the series opener at the same venue on Friday when they were thumped by 121 runs, but showed much more mettle in the second match.
Williams came in with his side teetering at 94 for three, but worked the ball around the ground expertly, hitting six fours and a six in his 75-ball knock.
He got support from Malcolm Waller (39 not out) as the pair put on 86 for the fifth wicket to see their side through to the win.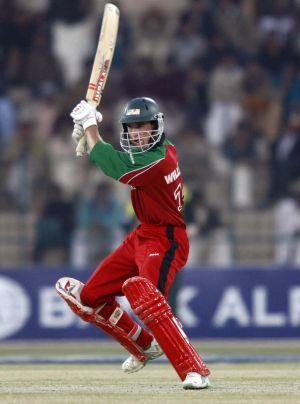 "I wanted to bat through the innings, it is a great batting track so you want to pad up and bat on this. The guys have put in a lot of work in the last few days and it has paid off," man of the match Williams said in a television interview after the game.
Zimbabwe captain Brendan Taylor played his part with a steady 37, while opener Vusi Sibanda struck 49.
"We showed a lot of character to bounce back from Friday," Taylor said.
"Sean Williams was fantastic along with Malcolm Waller. For 45 overs of their innings we were excellent with the ball and then let it slip at the end."
Bangladesh slumped to 124 for five in their innings before a swashbuckling unbeaten 53 off 22 balls from No 9 Abdur Razzak helped the side to 252.
Razzak smashed four fours and five sixes in his first ODI half-century.
"We didn't bat well, a couple of guys got going and did (not) go through," Bangladesh captain Mushfiqur Rahim said.
"At one stage we were looking at 180 all out, so we were happy with our total. But we needed early wickets and those did not come."
Scorecard
Bangladesh innings
Tamim Iqbal c Taylor b Chatara 6
Mohammad Ashraful c Taylor b Jarvis 8
Mominul Haque c Jarvis b Chigumbura 24
Mushfiqur Rahim lbw b Chigumbura 26
Shakib Al Hasan lbw b Utseya 34
Nasir Hossain c Taylor b Chatara 36
Mahmudullah c Jarvis b Chigumbura 31
Ziaur Rahman c Taylor b S. Masakadza 12
Abdur Razzak not out 53
Shafiul Islam run out 4
Robiul Islam not out 0
Extras (b-4, lb-6, w-7, nb-1) 18
Total (for nine wickets, 50 overs) 252
Fall of wickets: 1-10, 2-16, 3-60, 4-88, 5-124, 6-160, 7-185, 8-213, 9-224
Bowling: T. Chatara 10-2-33-2 (w1, nb1), K. Jarvis 10-0-52-1, S. Masakadza 10-0-64-1 (w1), E. Chigumbura 10-0-39-3 (w1), P. Utseya 8-0-47-1 (w3), H. Masakadza 2-0-7-0.
Zimbabwe innings
H. Masakadze b Shafiul Islam 15
V. Sibanda lbw b Shakib Al Hasan 49
Sikandar Raza c Shakib Al Hasan b Shafiul Islam 23
B. Taylor c Mominul Haque b Ziaur Rahman 37
S. Williams not out 78
M. Waller not out 39
Extras (lb-5, w-7) 12
Total (for four wickets, 47.5 overs) 253
Fall of wickets: 1-29, 2-94, 3-94, 4-167
Bowling: Shafiul Islam 9-0-51-2 (w2), Robiul Islam 9.5-0-51-0 (w3), Abdur Razzak 9-0-44-0, Ziaur Rahman 7-0-42-1, Shakib Al Hasan 9-0-42-1, Mahmudullah 4-0-18-0
Photograph: Mohsin Raza/Reuters