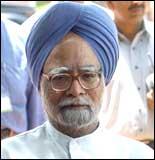 The Bharatiya Janata Party expressed disappointment with Prime Minister Manmohan Singh's reply in Rajya Sabha, saying he did not talk about the problems of corruption and price rise which were affecting the common man.
"The prime minister's reply was a disappointment. He neither talked about corruption, nor did he address the problem of price rise which was affecting the common man," party spokesman Shahnawaz Hussain said.
The BJP leader said while the prime minister expressed concerns over other issues, there was no mention of corruption or price rise in his reply to the debate on Motion of Thanks to President's address.
"BJP wants to question the prime minister as to when he would speak on these issues. He dejected the nation by not talking about it in his reply to the Motion of Thanks to the President's address in Rajya Sabha today," Hussain said.
"The nation gets looted, but he (Prime Minister) is still considered honest," the BJP leader said.
He said prime minister did not broach on issues of national interest and most of the issues addressed by him were those raised at the BJP conclave in Delhi last week.
"The line of disappointment that the Prime Minister sketched in Lok Sabha has only been deepened today in his address in Rajya Sabha," Hussain said.
The opposition party welcomed that Singh had lauded states like Bihar and Madhya Pradesh for making speedy progress and growth, but said he behaved like a typical Congress leader by not naming Gujarat and said the Prime Minister should have a "big heart".
"We welcome his lauding Bihar and Madhya Pradesh. As a Congress leader he forgot Gujarat. Just as prime minister forgot Gujarat, the people of Gujarat have also forgotten Congress.... The prime minister should have a big heart," Hussain said.