For the fifth consecutive time, the Sydney Cricket Ground (SCG) will be splashed with pink for the Vodafone Pink Test featuring Australia and Sri Lanka, starting on Thursday.
Since 2009, Australian dollar 3.5million has been raised for the McGrath Foundation through the Pink Test and Cricket Cares, directly funding eight McGrath Breast Care Nurses.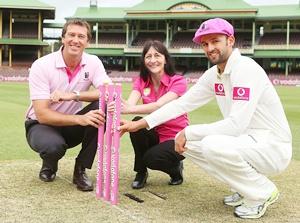 The five partners behind the Vodafone Pink Test -- Cricket Australia, the McGrath Foundation, Cricket NSW, the SCG Trust and Vodafone -- have come together once more to work towards the McGrath Foundation's vision of a breast care nurse for every Australian family experiencing breast cancer, for which they believe 150 McGrath Breast Care Nurses are needed nationwide.
An array of activities will punctuate the Vodafone Pink Test, including the renaming of the Ladies Stand as the Jane McGrath Stand, specially designed pinked ASICS Australian team playing shirts, over 400 guests attending the Jane McGrath High Tea, presented by 'Mt Franklin', in the Indoor Cricket Centre from 12.30pm on Day 3, known as Jane McGrath Day, members of the Australian team wearing limited edition pink Oakley sunglasses provided by OPSM, Vodafone turning their branding pink and donating money for sixes and wickets on Day 3, players signing and donating signed albion 'Baggy Pink' caps and playing shirts before play on Day 3 among others.
Co-founder and chairman of the Foundation, Glenn McGrath will be at the SCG throughout the Test and he will also be joined by five of the eight McGrath Breast Care Nurses funded by the Vodafone Pink Test and Cricket Cares.
As well as coming dressed in pink, fans are encouraged to wear a broadbrim hat in tribute to the late Tony Greig and zinc to mark the retirement of Mike Hussey.
The Vodafone Pink Test is a feature of Cricket Cares, Cricket Australia's community action program.
Photograph: Brendon Thorne/Getty Images