Kerala speedstar Sreesanth, who is recovering from a toe injury, is eyeing a successful comeback to competitive cricket with his new IPL team, Rajasthan Royals.
"I'm really excited about the challenge and eagerly looking forward to it," Sreesanth, who was bought by the Rajasthan outfit at his base price of $400,000, said on the sidelines of a promotional event in Kolkata.
- Jadeja hottest bid, sold for $2m at IPL V auction
"The onus is on me now to make it count there, so that I can set myself up for a return to the national team at the World T20 in Sri Lanka this September," Sreesanth, who is out of action since November, said.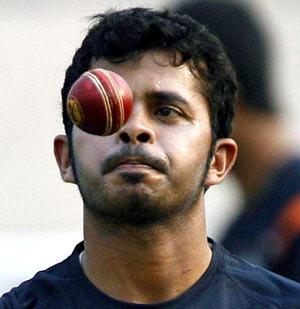 The temperamental medium pacer came to the defence of the beleaguered Indian side and pleaded for support in the time of crisis especially after their disastrous Australia Test series.
"The team is going through a difficult phase, no doubt.
"But, still, I would request everyone -- even past and future cricketers -- to remain beside and support the guys who are toiling out there," he said.
Sreesanth also expressed hope that India's World Cup hero Yuvraj Singh will return to action soon after recovering from a cancerous tumour on his lung.
"Hope he is back in the field soon. India certainly needs players like him."