Legspinner Fawad Ahmed's path to the Australia squad for the Ashes series could be cleared as early as next week after the government introduced legislation on Thursday that enables them to fast-track citizenship in special cases.
Pakistan-born Ahmed arrived in Australia in 2010 before claiming asylum as a refugee on the grounds that he had been subject to death threats from Islamic extremists for being involved with an NGO promoting women's rights.
Former Australia Test batsman Damien Martyn rates him as the best "Australian" spinner since the great Shane Warne and he was described as a "player of significant interest" by head selector John Inverarity in April.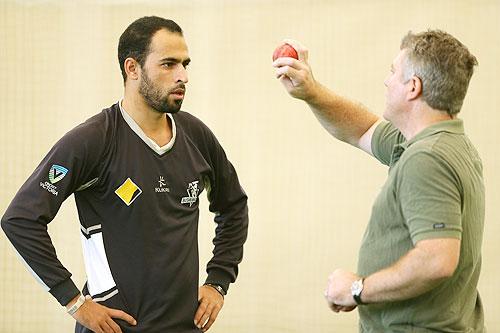 Under International Cricket Council residency rules, though, because he is not a citizen he would not become eligible for selection for Australia until August 18, three days before the fifth and final Ashes Test at the Oval.
Immigration minister Brendan O'Connor's "Australian Citizenship Amendment (Special Residence Requirements) Bill 2013" would allow the government to rush through citizenship for applicants who require it to "engage in an activity that is of benefit to Australia".
The bill is expected to go to the vote next week, clearing the way for Ahmed to get his new passport in time for the start of the first Ashes series of the two taking place this year in Nottingham on July 10.
Born in Swabi, a rural district fringed by the Hindu Kush mountains and the Indus river, Ahmed has taken 39 first class wickets at an average of 32.20 since making his debut for Abbottabad in 2005.
Australia included just one spinner, right-arm orthodox Nathan Lyon, in the squad for the series, despite Inverarity strongly hinting that there would be two.
That led many to suspect Cricket Australia were confident their lobbying of O'Connor on behalf of Ahmed's passport application would be successful.
Image: Former Australia cricket player Stuart MacGill (right) chats to Victorian player Fawad Ahmed
Photograph: Brendon Thorne/Getty Images