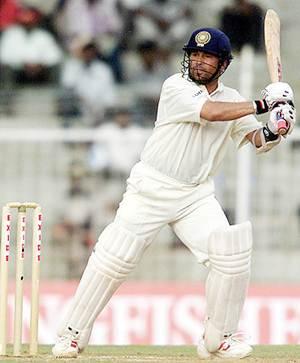 Retiring Indian batsman Sachin Tendulkar was on Wednesday named in Wisden's all-time World Test eleven.
Tendulkar, who will retire from Test cricket after playing against the West Indies in his landmark 200th match in Mumbai next month, was named at his number four slot in the team, announced to mark 150 years of the Cricketers' Almanack, in London.
The team, captained by legendary Australian batsman Don Bradman, has four Englishmen, three West Indians, two Australians, one Indian and one Pakistani.
Tendulkar's contemporaries, like Brian Lara, Ricky Ponting and Jaques Kallis did not make it to the team, neither did Indian greats Sunil Gavaskar and Kapil Dev.
Australian spin-legend Shane Warne and Pakistani fast-bowling great Wasim Akram are the only two contemporaries of Tendulkar who made it to the eleven.
Tendulkar and Akram are the only two Asians in the team.
Jack Hobbs and WG Grace were included as openers, followed by Bradman and Tendulkar at number three and four respectively.
Destructive West Indies batsman Vivian Richards comes in at number five followed his countryman and legendary all-rounder Garry Sobers.
Englishman Alan Knott got the wicketkeeper's spot while the four remaining bowling slots went to Warne, Akram, West Indian fast bowling great Malcolm Marshall and Englishman Sydney Barnes.
Wisden World XI: Jack Hobbs (England), W G Grace (England), Don Bradman (Australia, captain), Sachin Tendulkar (India), Vivian Richards (West Indies), Garry Sobers (West Indies), Alan Knott (England), Wasim Akram (Pakistan), Shane Warne (Australia), Malcolm Marshall (West Indies), Sydney Barnes (England).
Image: Sachin Tendulkar