Disappointed at Parvez Rasool not getting a game in the ongoing ODI series against Zimbabwe, Jammu and Kashmir Cricket Association (JKCA) said the young all-rounder has lost a big opportunity to showcase his talent on a tour that was meant to test the second crop of Indian cricketers.
"It would not be proper to question the wisdom of selectors sitting here, but Parvez being a great all rounder surely deserved a chance", JKCA media committee chairman, Ranjeet Kalra said.
"This series was actually meant to test the talent of youngsters, surely a big chance lost," he said.
Rasool was the only player in the 15-member squad who hasn't got a game in the five-match series. Ajinkya Rahane was warming the bench alongside Rasool before the opening batsman got a chance in the final ODI match.
"I was expecting that he would play after the third ODI. All the cricketer lovers of J&K right from the chief minister Omar Abdullah to the common man on the streets is disappointed that Parvez has not been given a chance in the playing eleven," Kalra said.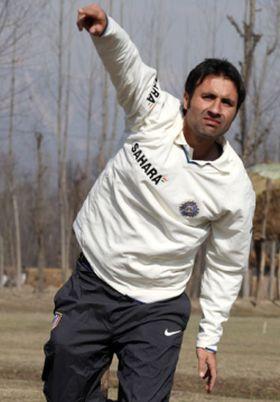 J&K chief minister Omar Abdullah also criticised the team management's decision to ignore the promising all-rounder.
"Did you really have to take him all the way to Zimbabwe to demoralise him? Wouldn't it have been cheaper to just do it at home?
"Really disappointed that Parvez Rasool hasn't been given a game in Zimbabwe," Omar said.
Omar had said that BCCI should give him a chance to prove himself.
Rasool shot to fame with a brilliant all-round performance in the Ranji Trophy last season by scoring 594 runs and grabbing 33 wickets.
Image: Parvez Rasool
Photograph: Umar Ganie