Jammu and Kashmir chief minister Omar Abdullah on Saturday lashed out at the Board of Control for Cricket in India for not playing all-rounder Parvez Rasool in any of the five One-Day Internationals against Zimbabwe.
- The world better take India seriously!

"Did you really have to take him all the way to Zimbabwe to demoralise him? Wouldn't it have been cheaper to just do it at home?" Omar said in a sarcastic tweet after Rasool was not included in the last game against the minnows.

Disappointed at Rasool's non-inclusion in the playing eleven of the Indian team in the ongoing Zimbabwe tour, Omar had on Friday urged the BCCI to give him a chance to prove himself.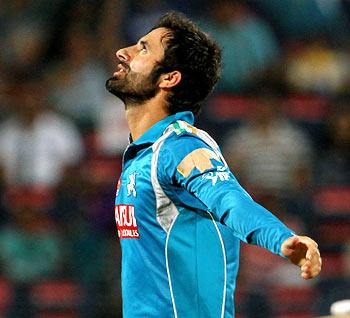 "Come on BCCI give the young man a chance to prove himself," Omar wrote on his twitter page.

The chief minister, an avid cricket follower, had expressed disappointment that the Jammu and Kashmir cricketer was not given a chance to make his debut in international cricket even though India went into the final match with an unassailable 4-0 lead.

"Really disappointed that Parvez Rasool hasn't been given a game in Zimbabwe," he said.

Rasool is the only member of the 15-member squad who has not seen any action so far. Ajinkya Rahane was warming the bench alongside Rasool but the opening batsman got his chance in the fifth and final ODI when he came in for Shikhar Dhawan.

India made another change for the match, with Shikhar Dhawan replacing fellow opener Rohit Sharma.

Rasool shot to fame with a brilliant all-round performance in the Ranji Trophy last season by scoring 594 runs and grabbing 33 wickets.

His selection to national squad was fast-tracked after he took seven wickets in one innings of a tour game against visiting Australians earlier this year.
Union Minister of State for Human Resource Development Shashi Tharoor also expressed his disappointment over Rasool not making it to the playing eleven in the final game of the series.
"Greatly disappointed that Parvez Rasool not playing today. Bizarre selection. Could easily have rested Jadeja & Raina for Rasool & Rahane," Tharoor tweeted.
He questioned the rationale of playing all the frontline players when India was leading the series 4-0.
"What's the point leading 4-0 if you can't give every member of the touring team a chance to play at least once by reshuffling the deck now?" he asked.
Photograph: BCCI