Seamer VRV Singh returned with a five-wicket haul and helped Punjab book a semi-final spot beating Jammu and Kashmir by 100 on the fourth day of their last-eight stage match of their Ranji Trophy tie in Vadodara on Saturday.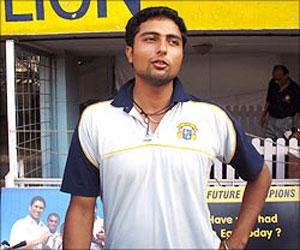 Jammu and Kashmir, chasing a target of 324, were dismissed for 233 in their second innings. Singh ran through the lower middle-order, dismissing skipper Parveez Rasool (10), Manzoor Dar (10), Obaid Haroon (0) and Samiullah Beigh (2) in quick time to derail J&K's chase at the Moti Bagh Stadium.
Punjab will now face Karnataka in the semi-final in Mohali from January 18.
First down batsman Hardeep Singh, who was retired hurt at the score of 43, came back to bat when the score read 146/7. He finished unbeaten with a 135-ball 76, which was studded with nine hits to the fence.
Chasing 324, J&K resumed their second innings at 77-2 on Saturday but their hopes of a successfully chasing the target for a maiden semi-final appearance in the Ranji Trophy came crashing down soon after.
In the second over of the day, Ian Dev Singh (18) was sent back to the hut by pacer Manpreet Gony as J&K slipped to 80 for three.
Overnight batsman Hardeep was then retired hurt with the total reading 113 for three, bringing two new batsmen Rasool and Ram Dayal at the crease.
Sandeep Sharma made good use of the opportunity by cleaning up Dayal (14) in the 40th over and two overs later, VRV Singh triggered a collapse with a twin-strike in the 43rd over leaving J&K reeling at 135 for 6.
Singh returned again in his next over to get rid off Dar. Hardeep then came back to the crease but VRV Singh continued his dismantling job by dismissing Beigh when he had him caught by Inder Singh in the 47th over to reduce J&K to 149 for eight.
M G Gujree and Hardeep then added another 53 runs before the former was sent back in the 59th over as J&K slumped to 202 for nine.
Umar Nazir Mir was the last to be dismissed in the 63.2 over as Punjab cemented their place in semi-finals.
"J&K inexperience shows up finally-but they R getting used 2 winning idea!Hopefully w/ improved infra-structureValley lads cn do better!!" tweeted former J&K coach and ex-India skipper Bishan Singh Bedi after the team's quarter-final loss.
Scoreboard
Punjab 1st Innings :304
J&K 1st Innings: 277
Punjab 2nd innings: 296
J&K 2nd innings: (target: 324 runs)
Adil Reshi c †Khera b Singh 34
Bandeep Singh c sub (VI Choudhary) b Gony 4
Hardeep Singh not out 76
ID Singh c †Khera b Gony 18
R Dayal b Sandeep Sharma 14
Parvez Rasool* lbw b Singh 10
M Dar lbw b Singh 10
O Haroon† lbw b Singh 0
S Beigh c Inder Singh b Singh 2
M Mudhasir c †Khera b Gony 22
Umar Nazir c Vohra b Harbhajan Singh 15
Extras: (B-8, LB-6, W-1, NB-3) 18
Total: (all out in 64.2 overs) 223
Fall of wickets: 1-21, 2-55, 3-80, 4-128, 5-135, 6-135, 7-146, 8-149, 9-202, 10-223.
Bowling: Sandeep Sharma (1) 17-3-63-1, MS Gony 17-5-43-3, VRV Singh 19-3-43-5, Harbhajan Singh 7.2-1-36-1, Gurkeerat Singh 2-0-14-0, Yuvraj Singh 2-0-10-0.