Mumbai's challenge in the Ranji Trophy ended on Saturday after solid half-centuries by Kedar Jadhav and Vijay Zol took Maharashtra in to the semis. Harish Kotian reports.
Kedar Jadhav's sizzling century and a cracking innings of 91 from young Vijay Zol helped Maharashtra stun defending champions Mumbai by eight wickets, to storm into the semi-finals of the Ranji Trophy, in Mumbai on Saturday.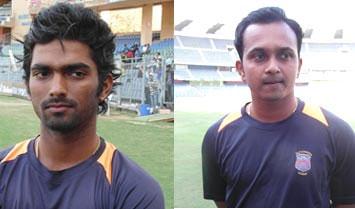 Chasing 252 for victory, Maharashtra cruised to 252 for two in 65.1 overs, 11 minutes before the tea break on the fourth day.
Maharashtra entered the semi-finals for the first time since 1996-97 and will play the winner of the quarter-final match between Bengal and Railways.
Punjab beat Jammu and Kashmir by 100 runs to enter the first semi-final, where they will take on Karnataka, who crushed Uttar Pradesh by 92 runs.
Jadhav, who slammed 120, hitting 13 fours and three sixes in 144 deliveries, hit Shardul Thakur for a boundary through midwicket to take his team to an easy victory.
Youngster Zol was watchful at the start before he blossomed after his half-century to hit 91 from 180 balls, hitting 13 fours.
Maharashtra, who resumed the fourth day on 28 for one, were dealt an early blow in the form of Harshad Khadiwale, who was dismissed by Zaheer Khan for 10.
But Jadhav hit his fifty century of the season with a wonderful innings of to thwart the Mumbai bowlers in the company of India Under-19 captain Zol as the duo took Maharashtra to an unlikely victory.
Jadhav continued his consistent run as he became the first batsman to cross the 1000-run mark in this year's Ranji Trophy, during the course of his innings.
Jadhav and Zol were watchful after the early dismissal of Khadiwale before they cut loose in the post lunch session.
Jadhav hit left-arm spinner Vishal Dabholkar for three sixes in a single over to finish off any hopes Mumbai might have had of making a comeback.
Zol also showed great courage and went after Zaheer, hitting the veteran pacer for two boundaries in an over towards the closing stages.
Maharashtra had staged a remarkable comeback after conceding a 122-run lead in the first innings as they bowled out Mumbai for a paltry 129 in their second innings. Mumbai had made 402 in their first innings before bowling out Maharashtra for 280.
Pacers Anupam Sanklecha and Samad Fallah were instrumental in bringing their team back into the contest as they both scalped seven wickets each, in the match.
Scorecard:
Mumbai 1st innings: 402 all out (Surya Kumar Yadav 120, Vinit Indulkar 82, S Fallah 4-130).
Maharashtra 1st innings: 280 all out (A Bawne 84, K Jadhav 51, S Thakur 6-86).
Mumbai 2nd innings: 129 all out (A Sanklecha 4-57, S Mundhe 3-26, S Fallah 3-45).
Maharashtra 2nd innings (Overnight: 28-1)
Harshad Khadiwale c Pawar b Zaheer 10 (45b)
Chirag Khurana c Jaffer b Zaheer 17 (24b, 3x4)
Vijay Zol not out 91 (180b, 13x4)
Kedar Jadhav not out 120 (144b, 14x4, 3x6)
Extras: (nb:2, w:1, b:5, lb:6) 14
Total (for 2 wickets in 65.1 overs) 252
Fall of wickets: 1-28 (Khurana, 7.4), 2-37 (Khadiwale 11.5).
Bowling: Zaheer Khan 17-3-51-2, S Thakur 15.1-4-58-0, A Nayar 13-2-41-0, J Khan 9-3-22-0, V Dabholkar 9-1-52-0, I Abdullah 2-0-17-0.
Image: Vijay Zol (left) with Kedar Jadhav