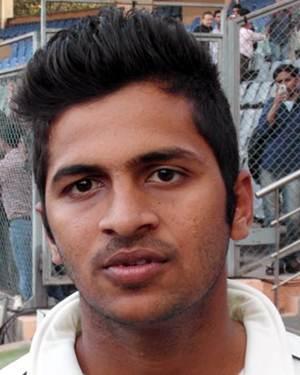 Shardul Thakur claimed four wickets to put Mumbai in control against Maharashtra on Day 2 of their Ranji Trophy quarter-final, at the Wankhede stadium, in Mumbai, on Thursday.
The right-arm medium pacer caused Maharashtra's batsmen a lot of problems with his extra bounce on a green Wankhede wicket, taking four wickets for 62 runs as Maharashtra struggled to 219 for 7 in 57 overs in their first innings, at stumps on the second day, in reply to Mumbai's 402 all out.
- Punjab take lead despite Rasool's ton
Srikanth Mundhe was unbeaten on 14 and Akshay Darekar on 16 as the visitors struggled despite half-centuries from Kedhar Jadhav (51) and Ankit Bawne (84).
Thakur rocked Maharashtra early, dismissing opener Rohit Motwani leg before wicket for a duck.
His opening partner Harshad Khadiwale also did not last long, the right-hander falling for seven after edging Thakur to third slip for four.
India's Under- 19 captain Vijay Zol scored 15 before he offered no stroke to an incoming delivery from veteran pacer Zaheer Khan only to see the ball come and hit his stumps as Maharashtra slipped to 24 for 3.
Bawne, who was hit on the helmet by Thakur early in his innings, looked to hit Maharashtra out of trouble. He went after young pacer Javed Khan, hitting him for four boundaries in his first over through the off-side to take Maharashtra past the 50-run mark, in the ninth over.
He stroked 10 fours and a six in his counter-attacking knock of 60 from 71 balls, while Jadhav made a composed 40 from 61 balls as Maharashtra recovered to 122 for 3 in 28 overs at the tea break.
Left-arm spinner Vishal Dabholkar got the crucial breakthrough in the third over of the post-tea session. Jadhav, who completed his half-century, fell off the very next delivery, caught behind by wicketkeeper Aditya Tare for 51.
Jadhav was instrumental in Maharashtra's comeback after a few early wickets, putting on 115 runs from 146 balls with Bawne.
Thakur then crippled Maharashtra further with the big scalp of Bawne, who tried to uppercut a short delivery but ended up edging it to 'keeper Tare.
His entertaining innings of 84 included 12 fours and two sixes off 113 deliveries.
Maharashtra then lost their way again. Sangram Atitkar (8) was caught in the slips off Thakur, while Chirag Khurana fell to a brilliant diving catch from Kaustubh Pawar at gully off Javed Khan 21. Four wickets were lost for 52 runs in the space of 19 overs.
Earlier, pacer Samad Fallah claimed four wickets but Mumbai, riding on Surya Kumar Yadav's century, posted a competitive 402 in their first innings.
Iqball Abdullah was left stranded on 49 after Fallah trapped last-man Vishal Dabholkar leg before wicket for a duck.
Mumbai, who resumed on 306 for 7, added 96 runs for the loss of three wickets on the second day.
Captain Zaheer was the first wicket to fall in the morning session, caught at second slip off Srikanth Mundhe. He played a useful knock of 39, adding 62 runs for the eighth wicket with Abdullah to frustrate the Maharashtra bowlers, who got a lot of help from the pitch but were unable to get the wickets.
Javed Khan was caught and bowled by left-arm spinner Akshay Darekar for 14 before Fallah claimed Dabholkar to finish with impressive figures of four for 103, while Anupam Sanklecha claimed three for 77.
On Day 1, Surya Kumar Yadav played a sparkling 120, which included 18 fours in 139 deliveries, while Vinit Indulkar scored a patient 82 to rally the hosts after a shaky start.
Scorecard
Mumbai (1st innings):
Wasim Jaffer c Bawne b Mundhe 44 (98b, 8x4)
Kaustubh Pawar c Motwani b Fallah 19 (27b, 4x4)
Aditya Tare c Fallah b Sanklecha 3 (42b)
Vinit Indulkar c Motwani b Sankhlecha 82 (164b, 13x4)
Abhishek Nayar c Jadhav b Fallah 5 (10b, 1x4)
Surya Kumar Yadav c Khurana b Sankhlecha 120 (139b, 18x4)
Iqbal Abdullah not out 49 (107b, 3x4)
Shardul Thakur c Khurana b Fallah 4 (5b, 1x4)
Zaheer Khan c Khurana b Mundhe 39 (61b, 4x4, 1x6)
Javed Khan c & b Darekar 14 (41b, 2x4)
Vishal Dabholkar lbw b Fallah 0 (8b)
Extras: (nb:3, w:3, b:9, lb:8) 23
Total: (all out in 116.3 overs) 402
Fall of wickets: 1-35 (Pawar 9.1 ov), 2-55 (Tare 21.5), 3-92 (Jaffer 31.3), 4-101 (Nayar 34.3), 5-284 (Indulkar 77.3), 6-295 (Yadav 79.4), 7-300 (Thakur 80.4), 8-362 (Zaheer 99.2), 9-397 (Khan 112.6), 10-402 (115.3).
Bowling: S Fallah 35.3-6-103-4, A Sanklecha 26-5-77-3, Mundhe 29-7-85-2, Khadiwale 6-3-23-0, Darekar 16-2-60-1, Khurana 4-0-37-0.
Maharashtra (1st innings):
Harshad Khadiwale c Indulkar b Thakur 4 (11b, 1x4)
Rohit Motwani lbw b Thakur 0 (7b)
Vijay Zol b Zaheer 15 (22b, 2x4)
Kedar Jadhav c Tare b Dabholkar 51 (66b, 9x4)
Ankit Bawne c Tare b Thakur 84 (113b, 12x4, 2x6)
Sangram Atitkar c Indulkar b Thakur 8 (23b, 1x4)
Chirag Khurana c Pawar b Khan 21 (35b, 4x4)
Srikanth Mundhe not out 14 (41b, 1x4)
Akshay Darekar not out 16 (28b, 3x4)
Extras: (nb:2, w:2, b:1, lb:1) 6
Total: (for 7 wickets in 57 overs) 219
Fall of wickets: 1-1 (Motwani, 1.4), 18-2 ( Khadiwale, 4.4), 3-24 (Zol, 5.3), 4-139 (Jadhav, 29.4), 5-161 (Bawne (37), 6-170 (Atitkar, 41.3).
Bowling: Zaheer Khan 11-1-40-1, Shardul Thakur 14-0-62-4, Javed Khan 12-1-44-1, Abhishek Nayar 8-1-20-0, Vishal Dabholkar 12-4-51-1.
Image: Shardul Thakur
Photograph: Harish Kotian