Already burdened by back injuries to captain Daniel Vettori and Brendon McCullum, New Zealand on Tuesday suffered yet another setback when fast bowler Daryl Tuffey was ruled out of the ongoing five-match One-Day International series against India due to a bicep strain.
Tuffey, who took two for 56 in the opening match  in Guwahati on Sunday, will return home. But the visitors have not yet announced his replacement.
"Daryl developed discomfort in his right bicep while he was playing but was able to manage it during the match. It appeared to be OK when he was bowling, but now he's unable to throw without pain so he will return home for further assessment and treatment," Mark Greatbatch, New Zealand's coach and selector, said in a statement.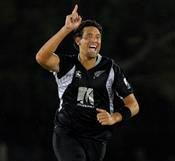 Vettori and McCullum were not available for the first ODI and the inexperienced side, led by Ross Taylor, went on to lose by 40 runs against India.
It's still not clear whether the duo will be available for the second ODI in Jaipur on Wednesday.
"We are hopeful that both Dan and Brendon will be available for the next match. Dan is more likely at this stage but we are monitoring both on a day-to-day basis. A decision on the final line-up is expected shortly before the match," Greatbatch added.