India scored a comprehensive 40-run win over New Zealand in the first one-dayer at the Nehru Stadium in Guwahati on Sunday to take a 1-0 lead in the five-match series.
Chasing a competitive target (277), the visitors could only muster 236 in 45.2 overs.
With India's 242 against Pakistan in 2007 being the highest total chased on this ground, the visitors had a tough task ahead of them when they stepped out to bat.
And New Zealand losing too many wickets and leaving too much for too late meant they were never going to pose any serious threats. The fact that the light was fading fast didn't help matters either.
Ross Taylor was the only New Zealand batsman to put up a semblance of a resistance. His 69-ball 66 was inclusive of three hits to the fence and an equal number over it.
At one stage (169 for eight), the visitors seemed set for a heavy defeat. But an aggressive 67-run (off 58 balls) ninth wicket stand between Kyle Mills (32) and Nathan McCullum (35) helped them put up a rearguard resistance and saved them the blushes.
S Sreesanth was India's most impressive bowler with figures of three for 30. Yuvraj Singh (three for 43) and  R Ashwin (three for 50) provided adequate support.
It was a winning start for Gautam Gambhir as captain of Team India while also being Taylor's first loss in charge of New Zealand.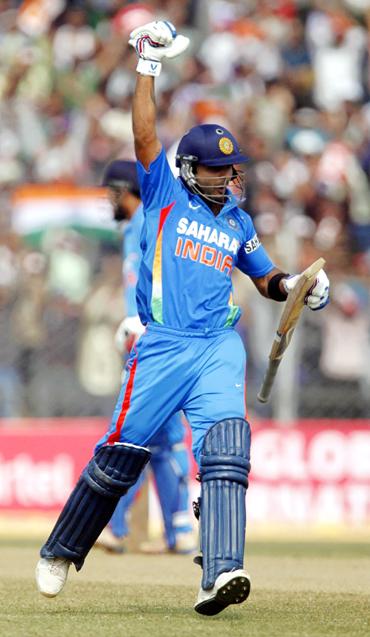 Virat Kohli was named the man-of-the-match for his impressive 105. It was Kohli's second successive ODI hundred.
The Delhi player had hit 118 against Australia at Vishakhapatnam in his last ODI. This made him only the sixth Indian batsman to register successive hundreds in one-dayers.
Earlier, Taylor called correctly and New Zealand opted to bowl.
"We will bowl first as there might be something in for the seamers," reasoned Taylor, fully aware the chasing side had a winning history at the venue.
It is Gautam Gambhir's first match as India's captain. And he seemed confident in his new role.
"It will be just a matter of seeing the first 6-7 overs and then build a total," he said at the toss.
His team ensured his statement was vindicated.
India innings:
Earlier, Virat Kohli hit an impressive century (105) to help India set a competitive total. The home team made 276 in 49 overs.
It was Kohli's fourth ODI hundred, his second in a row. Kohli's 104-ball knock was inclusive of 10 hits to the fence.
However, the home team was guilty of not being able to bat out their full quota of overs. Having looked good for a 300-plus score at one stage - they were 250 for four in the 44th over, India lost its last six wickets for the addition of just 26 runs.
Andy McKay was the pick of the New Zealand bowlers with figures of four for 62. The 30-year-old bowled with considerable pace and generated good bounce from the wicket to surprise the Indian batsmen on many occasions.
Kyle Mills was also impressive, with figures of three for 42.
Earlier, the first three overs were negotiated carefully before Murali Vijay (29) cut loose, first driving Tuffey through covers and following it up with a hit to the square-leg boundary.
In the next over by Mills, Vijay helped himself to a couple of more boundaries.
Inspired by Vijay's aggression, Gautam Gambhir (38) too helped himself to a couple of boundaries in the sixth over (bowled by Tuffey).
However, Tuffey had the last laugh, Vijay having to pay the price for his aggression. The opener's mishit was snapped up by keeper Hopkins to give the visitors a much needed breakthrough.
The opening wicket stand yielded India 44 runs.
Gambhir continued the aggression before his extravagance cost him his wicket as well. Playing away from the body to an McKay delivery that was way outside the off stump, the Indian captain gave Jamie How a regulation catch.
It was a soft dismissal to say the least. Gambhir's run-a-ball 38 was inclusive of six hits to the fence. His second wicket partnership with Kohli helped the home team add 48 runs to the total.
Kohli and Yuvraj Singh (42) combined well thereafter, with the latter cutting loose following a somewhat cautious start. What followed were a slew of boundaries, with Kohli being a mere spectator at the other end.
However, when Williamson came into bowl, Kohli got his opportunity to cut loose. A boundary towards square-leg was followed by a couple to fine-leg.
And a ninth ODI fifty, a first against New Zealand, was cahieved by Kohli. He celebrated the same by hitting to the cover boundary.
Yuvraj, however, failed to reach his fifty, Tuffey having him caught behind at 42.
The left-hander, under pressure to deliver, put up a credible show, his 64-ball knock inclusive of seven hits to the fence. More Importantly, his 88-run third wicket partnership with Kohli laid the foundation for a big total.
Kohli albeit continued with his job, hitting a couple of boundaries in the 40th over - bowlee by Nathan McCullum - to inch closer to a second successive century.
The batting powerplay was taken in the next over. And Suresh Raina (13) perished in the fourth ball, hitting Mills straight to Jamie How at long-off. 
Kohli though reached his hundred in an impressive manner, guiding a Mills delivery to the third man fence. However, he was dismissed soon after, caught at cover by How off McKay.
And just 38 runs came off the batting powerplay.
In the 46th over, the impressive McKay struck twice in the space of three balls. Wridhimann Saha (4) was caught behind off the first ball and R Ashiwn (0) was caught and bowled two balls later.
When Ashish Nehra (0) was run out in the next over, India late-order seemed to collapse like a pack of cards.
However, Yusuf Pathan (29) eventually freed his arms with three overs left, to prevent the same.
McKay's first ball was smashed over the midwicket boundary for the first maximum of the innings and the next was hit over mid-off for another boundary.
Pathan had almost hit another maximum had it not been for a spectacular fielding effort by Martin Guptill at long-on.
In the next over by Mills, Guptill was guilty of dropping Pathan at deep midwicket. The blemish didn't prove costly for New Zealand though.
For Mills had Pathan caught by Taylor at short cover in the very next ball. Four balls later, Sreesanth (4) was caught by How at long-on to bring down the curtains of the Indian innings.
It was How's fourth catch in the innings.
New Zealand innings:
Martin Guptill (30) began proceedings on a confident note, hitting Nehra straight down the ground for a boundary in the first over.
In the fourth over, bowled by Sreesanth, the 24-year-old helped himself to a couple of more boundaries, the second one being an impressive pull wide of midwicket.
And by Sreesanth's third over, the sixth of the innings, Guptill's confidence has increased further. A boundary over point was followed by a magnificent strike straight over the umpire's head. 11 runs came off the over.
However, Nehra provided India the breakthrough in the next over, having Jamie How (9) caught by Vijay.
Gambhir introduced spin as early as the eighth over in the form of R Ashwin. And the young Tamil Nadu bowler struck in his second over.
Guptill, dropped by Vijay off Nehra an over earlier, paid the price for his aggression sans caution, Munaf Patel taking a good catch at long-off to ensure his dismissal.
Guptill's 37-ball innings was inclusive of six hits to the fence. 
Taylor and Williamson, however, batted cautiously, building a partnership brick-by-brick. The duo made slow progress initially, taking the score to 78 for two after 21 overs.
Then 10 runs came off Yuvraj's fourth over. And 15 came in the next bowled by Yusuf Pathan, his first.
Taylor first pulled Pathan over the backward square-leg boundary to ensure the first maximum of the New Zealand innings. The next ball was hammered over the midwicket boundary for another maximum, thereby helping New Zealand cross the 100-run mark, and also raise the 50-run partnership for the third wicket.
Pathan was immediately taken off. However, Taylor offered replacement Ashiwn no respite, hitting him to the third man fence.
However, just when things looked difficult for India, Yuvraj struck.
Williamson, who had played the sheet anchor's role to perfection till then, was caught behind. The 20-year-old didn't hit a boundary in his 51-ball knock but helped his captain put on a vital 67 runs for the third wicket.
Taylor soon reached his half-century with a single off Yuvraj. It was the 26-year-old's 18th ODI fifty, his second against India.
But Yuvraj struck again soon after, having Scott Styris (10) caught by Pathan at first slip to dent the visitor's chances further.
Grant Elliott (5) began with a sweetly-timed boundary towards fine-leg off Yuvraj. However, he didin't survive long, Sreesanth having him caught by Pathan.
Daryl Tuffey (4) didn't survive long, Yuvraj having him caught by Raina at short cover.
With wickets falling in a heap, the batting powerplay was taken in the 34th over.
Taylor smashed Ashwin over long-leg for his third maximum. However, the bowler had his revenge in the next ball, having the Kiwi captain caught by Munaf Patel.
Gareth Hopkins (16) fell soon after, caught by Pathan to give an impressive Ashwin his third wicket.
New Zealand's performance in the batting powerplay was worse than India's - only 31 runs were scored for the loss of two wickets and there were a whopping 17 dot balls.
That summed up the struggle of their batting line-up.
Mills and McCullum used the long handle to good effect for a while towards the latter part of the New Zealand innings.
However, by then it was a lost cause. The duo was dismissed in successive delieveries by Sreesanth to end New Zealand's ordeal.
Teams:
India: Gautam Gambhir (captain), Murali Vijay, Virat Kohli, Yuvraj Singh, Suresh Raina, Yusuf Pathan, Wridhimann Saha, R Ashwin, Ashish Nehra, S Sreesanth, Munaf Patel.
New Zealand: Ross Taylor (captain), Jamie How, Martin Guptill, Scott Styris, Kane Williamson, Grant Elliott, Gareth Hopkins, Nathan McCullum, Kyle Mills, Daryl Tuffey, Andy McKay.