Last time when he entered the ground with a cricket ball in hand was more than a decade ago. He was playing for Bihar in the Ranji Trophy as a left-arm spinner. But, cricket never left him.
Arun Pandey's gateway to the business community was his connection with the present captain of the Indian cricket team, Mahendra Singh Dhoni.
Pandey moved to Delhi from Varanasi in 1994 after his father died. His mother, who worked with State Bank of India in Varanasi, often worried about her son's safety in the big metro.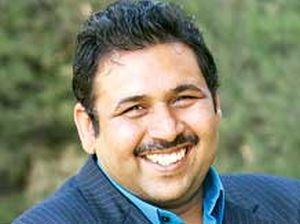 But, Pandey soon made it big to be on TV. His ticket to success was Dhoni whom he signed for a whopping amount for his sports management company, Rhiti Sports.
From his farm house in Gurgaon, he struck all the big endorsement deals for Dhoni, and others. After Dhoni became a megastar, Pandey reaped the dividends. Once he even appeared in a television commercial for a cement brand along with Dhoni and RP Singh.
Overnight he became a known face. Pandey is a vegetarian, doesn't smoke or drink, and avoids parties. But he gets the job done.
It is reported that Dhoni's brand value jumped after he joined hands with Pandey.
From Rs 40 crore it became Rs 100 crore in no time. Rhiti Sports, which was started in 2007, soared too. It got the accounts for Saina Nehwal, Suresh Raina, Ravindra Jadeja, Pragyan Ojha and RP Singh, besides, of course, Dhoni.
The company owns the marketing rights for the Chennai Super Kings team of the Indian Premier League, for which Dhoni, Raina and Jadeja play. Pandey was the man behind Dhoni becoming one of the richest sportspersons in the country.
Majority of Dhoni's annual earnings come from endorsement fees, which is about 40 per cent more than that of master blaster Sachin Tendulkar.
But the same friendship has brought Dhoni in the line of fire. The 15 per cent stake that he held in Rithi Sports points to conflict of interest since Dhoni has a role in picking the Indian team and the firm would benefit if its clients were part of the team.
It's not just one firm. Dhoni and Pandey have few more ventures together.