England captain Andrew Strauss paid tribute to batsman Jonathan Trott whose patient double century set up a dramatic victory over Sri Lanka in the first Test on Monday.
Bad weather interrupted the first four days and the match looked to be heading for a certain draw but England dismissed Sri Lanka for 82 in just over two hours to take a 1-0 lead in the three-match series.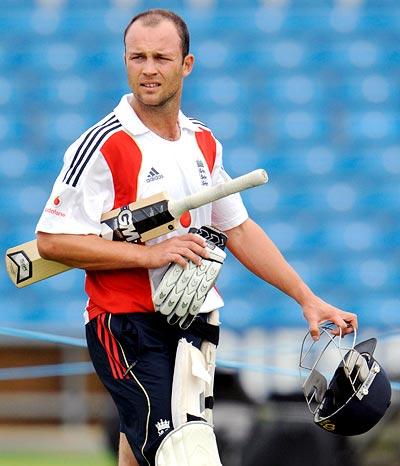 Trott batted almost nine hours for his 203 and averages 66.77 in 19 Tests, second only to Australian Don Bradman who is widely regarded as the greatest batsman of all time.
"All sides all over the world are looking for solidity at number three," Strauss told reporters. "He has scored runs consistently but in a controlled manner that has settled the whole of our dressing room.
"He has come in sometimes in the first over, like at Brisbane (in November), and at other times he has come in much later. But the great thing about Trotty is that he bats the same way and at his own tempo.
"That is how the likes of (India's) Sachin Tendulkar and (South Africa's) Jacques Kallis bat. It is unbelievable in how he has played over the last 18 months."
Trott shared a partnership of 251 with opener Alastair Cook, helping England to a total of 496 for five declared, and the South Africa-born right-hander said his side always believed they could win despite losing over 130 overs to rain.
"Everyone came to the ground with a mindset of trying to get a result out of the game," Trott said.
"We had that little spell before tea which allowed the fast bowlers to have a burst and then come back after the break."
Sri Lanka skipper Tillakaratne Dilshan must lift his players for the next Test starting on Friday.
"It will be difficult to forget this match but we have to stick together as a team, do whatever we can outside of cricket, get together and forget about everything," Dilshan said.
"We have experienced players. We lost this test because of our batting. We can regroup and come back for the Lord's test in a positive mind and then play some good cricket there."