As many as 350 top cricketers from India and abroad would go under the auctioneer's hammer in Bangalore on January 8 and 9 with the 10 Indian Premier League [ Images ] (IPL) franchises bidding for their services for the fourth season of the lucrative Twenty20 [ Images ] League.
Barring a dozen players, including Indian superstars Sachin Tendulkar [ Images ], Mahendra Singh Dhoni [ Images ] and Virender Sehwag [ Images ], who have been retained by five franchises in advance of the auction as per the IPL player regulations, most of the world's top players would be up for grabs.
The list of players has 11 out of 12 century makers in the previous three IPL seasons, including the Twenty20 league's fastest century maker Yusuf Pathan [ Images ] and 2010 ICC [ Images ] ODI Player of the Year AB de Villers (South Africa [ Images ]), BCCI secretary N Srinivasan said on Wednesday.
Former India skippers Sourav Ganguly [ Images ], Anil Kumble [ Images ] and Rahul Dravid [ Images ], too, would be available for pickings by the various franchises.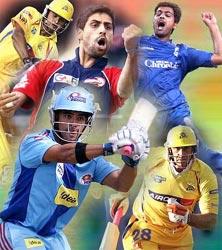 Other established IPL performers available at the auction include current Indian team members Gautam Gambhir [ Images ], Zaheer Khan [ Images ], Ashish Nehra [ Images ] and Yuvraj Singh [ Images ], as well as 2009 IPL's most successful bowler (38 wickets) R P Singh.
"The DLF IPL auction is indeed a very exciting prospect. I am confident that IPL fans throughout India and across the world will be paying very close attention to which of the world's best cricketers will be wearing their teams colours for the next IPL season," said IPL chairman Chirayu Amin [ Images ].
"Of the initial 421 cricketers who had expressed interest to participate in the auction, a short list of 350 cricketers has been produced by the various IPL franchises," Srinivasan said.
The participation of the Rajasthan Royals [ Images ] and Kings XI Punjab [ Images ] franchises in the auction is subject to court orders, he added.
Players retained by their original franchise teams are: M S Dhoni, M Vijay, Suresh Raina [ Images ], Albie Morkel [ Images ] (South Africa) -- retained by Chennai Super Kings [ Images ]; Virat Kohli [ Images ] -- Royal Challengers [ Images ] Bangalore; Sachin Tendulkar, Harbhajan Singh [ Images ], Lasith Malinga [ Images ] (Sri Lanka [ Images ]) and Kieron Pollard (West Indies [ Images ]) -- Mumbai Indians [ Images ]; Virender Sehwag -- Delhi Daredevils [ Images ]; Shane Warne [ Images ] (Australia [ Images ]), Shane Watson [ Images ] (Australia) -- Rajasthan Royals.
By retaining four players, Mumbai Indians and Chennai Super Kings are each left with only US$ 4.5 million to spend either in the auction or in buying Ranji players outside the auction.
Rajasthan Royals will have $5.9 million available to spend (pending further orders from the Bombay High Court) while Delhi Daredevils and Royal Challengers Bangalore will each have a balance of $7.2m available. The remaining franchises have the full $9 million available.
Professional auctioneer Richard Madley, from England [ Images ], who has conducted each of the previous IPL player auctions, would once again be in control of the proceedings at Bangalore and the event would be broadcast live by Sony Set Max.
The opening match of IPL 2011 will take place on April 8 in Chennai.