Mumbai Indians mentor-cum-bowling coach Shaun Pollock feels that there's "absolutely no issue" in the team ranks as far as the relationship between old foes Harbhajan Singh and Andrew Symonds is concerned.
The off-spinner and the star Australian batsman were involved in the infamous 'Monkeygate' scandal during a Test match at Sydney in 2007-08 series Down Under.
Symonds alleged that Harbhajan called him a "monkey" during the match. In Australia that is considered a racist remark. However, the allegations against the 'Turbanator' couldn't be proved. The popular notion in the cricket fraternity about that incident is that Symonds was never the same player again after that incident.
The feuding duo never called truce and after Symonds was picked up by Mumbai Indians at the IPL auction this year, there has been intense speculation about how their relationship would be.
If the opening day is an indicator, then it will really take some time for the duo to forget the past and move on.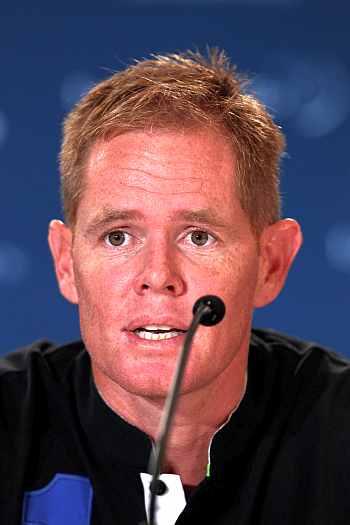 "I have been a part of many teams over the years. Trust me, not everyone is best of friends with the other. It doesn't happen like that. These two (Harbhajan and Symonds) are professional cricketers. They know their job is to perform for the team," Pollock said.
"As far as we are concerned, there is absolutely no issue in the team. Harbhajan has only joined yesterday and today we have had a good day's practice," the former South African speedster said.
From the time Mumbai Indians team entered the Feroz Shah premises, the lensmen were keen on getting Symonds and Harbhajan in the same frame which was a rarity. Both had a knock at the nets and Harbhajan, who was seen chatting with Delhi skipper Virender Sehwag and pacers Umesh Yadav and Ashok Dinda, left earlier.
Symonds finished his batting only after Harbhajan had left the practice nets for the dressing room.
On a different note, Pollock was asked about the fatigue factor for the Indian players, especially Sachin Tendulkar, who along with some of the others had a strenuous month and half during the World Cup.
"I have spoken to Sachin. He hasn't told me anything about playing selectively. As of now, he is raring to go and do well for Mumbai Indians after doing wonderfully for India at the World Cup. Also this is only Twenty20 version."
Asked about the slow nature of the Kotla track, which could be a concern as Twenty20 cricket is all about entertainment, Pollock replied, "I think the Kotla strip is a decent one. Here AB de Villiers scored a fantastic century against West Indies in the World Cup. So I am hopeful that one can put up a decent score."
Photograph: Getty Images