Leading South African scorer AB de Villiers is a doubtful starter for Tuesday's group B World Cup fixture against Ireland due to a thigh muscle strain.
He has been diagnosed with a grade one muscle pull and it seems that the team think-tank may not risk fielding the in-form batsman against minnows at Eden Gardens.
"Luckily it's not something major. He has a 50-50 chance and we will take a call tomorrow morning," South Africa team media manager Lerato Malekutu said after getting the report of the scan, done this morning.
About the injury, she said, "It is a grade one strain to the left quad muscle. The medical team is taking it one day at a time but he has not been ruled out."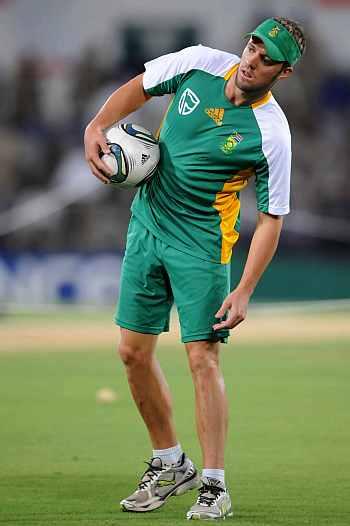 The right-hander, who is the most successful batsmen for the Proteas with 318 runs under his belt with two hundreds and a half-century from four World Cup matches, pulled his muscle during his 52 against India in Nagpur.
De Villiers needed a runner during his 52-run knock against India on Saturday during South Africa's spectacular three-wicket win over India.
South Africa coach Corrie van Zyl said, "I don't think it's major in terms of out of the tournament."
The 27-year-old de Villiers has been in sensational form, hitting back-to-back centuries against West Indies and the Netherlands, but additional wicket-keeping workload has been taking a toll on his ailing back.
He handed over the wicket-keeping duties to Morne van Wyk in South Africa's last two matches -- against England and India -- to minimise the strain on his sore back.
South Africa's leading wicket-taker and Pakistan born in-form leg-spinner Imran Tahir also has been advised 10 days rest after fracturing his left thumb.
But it's no worries said the coach who said they have enough bench strength to replace the in-form guys.
"Imran didn't play in the previous game (vs India) and we won that game, a pretty important game. We also said when we left South Africa that we have got a 15-man squad we feel that can represent South Africa on any given day.
"That gives us options and I believe that even if both of them can't play tomorrow then the 11 that we put in the field will be a strong 11," van Zyl said.