Delhi Daredevils skipper Virender Sehwag conceded that it is difficult for his team to reach the play-offs of the Indian Premier League after suffering a 17-run defeat against Kolkata Knight Riders in Delhi on Thursday night.
The Delhi team lost its fifth match in the tournament and languish at the bottom of the points table with just four from seven outings.
"It's difficult and pressure is on us. We have to pull ourselves and really bat and bowl in the coming games," Sehwag told reporters at the post-match press conference.
But he sounded optimistic, saying they still have an outside chance of making it to the next stage.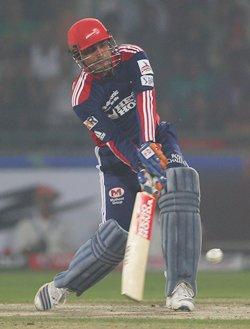 "Nothing is impossible. We can still back ourselves from here on, and if we win two three games from here on, then it's possible for us. But, yes, it's quite difficult," Sehwag added.
Kolkata Knight Riders comprehensively beat Delhi to notch their fourth win in the tournament IPL.
Sehwag said has to back his own performance in order to turnaround Daredevils' fortunes.
"I have only got one fifty in the seven games. So I need to look at my performance also. If I get going it will be difficult for other teams to come back," he said.
"I'll have to shoulder the responsibility and need to stay at the wicket for 12-15 overs. It will be good for my team," he added.
Sehwag defended his decision to send Travis Birt ahead of the in-form Venugopal Rao, saying, "We thought a left-hander would be a better option against left-arm spinner. But nothing seems to be going our way.
"None of our plans are working. T20 game is like that only. Probably we will send Venu and Naman Ojha up the order in the coming games."
His opposite number Gautam Gambhir lauded his bowlers for defending a modest 148.
"We just played very well as a team. We bowled and fielded well. It just goes to show how desperate we were for a victory," he said.
"If we can continue like this, definitely, it will help our campaign. I am satisfied with the all-round performance today."
About man-of-the-match Manoj Tiwary, who scored a 47-ball unbeaten 61 to help his team's cause when wickets were falling at the other hand, the KKR skipper said, "He set the game for us. Entire credit goes to him for setting the game for us. He played a good innings."
About KKR's fielding, Gambhir said the players saved 15-20 runs, which meant that the opposition had to chase a score of around 160-165 runs.
"When you start defending the modest totals it gives you confidence for the games ahead. We defended the target and it has acted like a confidence-booster for us," he said.
He also defended Yusuf Pathan, who has been off-colour in this tournament so far.
"He has hardly played enough. He is hitting the ball good and till the time he sticks to our game plan, he remains a very important member of our scheme of things," Gambhir insisted.