Lavishing rich praise on Sachin Tendulkar on completing his 50th Test century, former India captain and legendary left arm spinner Bishan Singh Bedi said the milestone was a super human effort.
-50 Test tons and counting for Tendulkar
"I watched him on television and all I can say that this was a great super human effort by batting legend Sachin Tendulkar. The manner in which he crossed into the 90s with an effortless six, left no one in doubt --atleast not me -- that he was going to get his 50th hundred against the mighty South Africans.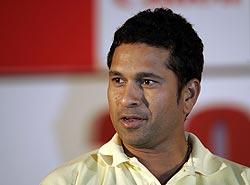 "He reached the milestone when the chips were down and India was facing a huge deficit. Not that India is out of woods but it would take an even much more super human effort for India to save the 1st Test match. Only the rain Gods can rescue India from a certain defeat," Bedi told rediff.com on Sunday.
-Congratulate Tendulkar on his 50th Test ton
Bishan Bedi and Sachin Tendulkar exchanged text messages after the milestone was crossed.
"I sent him a message congratulating him for his tremendous achievement and told him that the nation is proud of him, he sent me a reply saying Thank you Paji," Bedi added.
Talking about the on-field rivalry between Tendulkar and Shane Warne, Bedi said that Warne had once told the former Indian captain that he often dreamt of Sachin hitting him for a six and dispatching his best deliveries to the fence with ease.
"I watched him when he got his first hundred. His thirst for runs is simply unstoppable. I am a great admirer of the legend. He has never betrayed his emotions in public.
"Yes, he dedicated his 50th ton to his father. This is a fact that Saturday (December 18) was the birthday of his father. Look at the achievements of the great superstar of Indian sports arena and yet there has not been one occasion when he lost his peace of mind, Bedi said.
-Check out Tendulkar's 50 Test centuries
Bedi also spoke of Tendulkar's obsession for batting.
"He is obsessed with batting. If you go to his bed room as the door closes it makes the same kind of sound as when the ball hits the bat. I think whatever he is today is because of his dedication, discipline, hardwork, obsession for batting and the sanskars that he has imbibed from his family," said the left arm spinner.