Prime Minister Manmohan Singh congratulated Sachin Tendulkar for his "amazing achievement" of scoring 50 Test hundreds in the ongoing first Test against South Africa in Centurion.
Singh also hoped that Tendulkar will continue to bring joy to "our countrymen" and wished more "such achievements" to him, a PMO spokesman said.
"It is an amazing achievement to play for the country for over two decades and still continue to be the team's anchor. Sachin makes all of us so very proud," Singh said.
Tendulkar on Sunday created history by becoming the first cricketer to score 50 Test tons, during India's second innings at SuperSport Park, Centurion.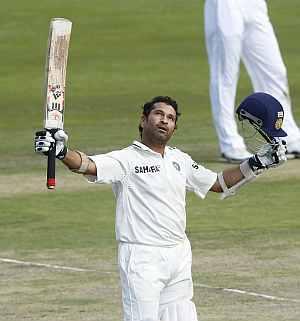 Meanwhile, BJP president Nitin Gadkari, an avid cricket enthusiast, said he was proud of Sachin Tendulkar.
"I wish to congratulate Tendulkar on his great achievement. We are all proud of him," he said.
Gadkari, who returned from his official visit to Israel, said he plans to felicitate Tendulkar soon.
"I have discussed with my friends and we plan to felicitate and honour him soon," he said.
Congress president Sonia Gandhi too joined the PM and congratulated Tendulkar for his "historic" feat, saying he has done India proud by creating yet another world record.
"Congress president Sonia Gandhi has congratulated Sachin Tendulkar on creating yet another world record," a party statement said.
Gandhi said that this was "indeed a historic feat and he has done India proud".
President Pratibha Patil also joined in praising Tendulkar's remarkable achievement. Patil said it was a remarkable achievement which all the Indians should be proud of.