Accolades continued to pour in for Sachin Tendulkar with the Indian iconic batsman becoming the first cricketer to score 50th Test centuries in the history of the game.
India's dashing batsman Yuvraj Singh termed Tendulkar's innings as "the greatest achievement by a batsman ever", while ace tennis star Mahesh Bhupathi termed him as an "inspiration".
"Sachin Ramesh Tendulkar as always inspirational, standing ovation," Bhupathi wrote on microblogging website twitter.com.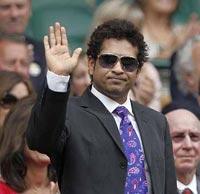 Sri Lankan captain Kumar Sangakkara said Tendulkar has accomplished everything in life and so he is just competing with himself.
"I think it is just the way he has changed the game overall and his own game because there are so many situations he has faced. He is now competing mostly against himself, like most great cricketers do," Sangakkara said.
"I think he has mastered all of them. The only challenge he has is to beat himself every time he walks out there because he has done almost everything," he added.
Tennis player Rohan Bopanna and India's melody queen Lata Mangeshkar also congratulated Tendulkar on his achievement.
"Congratulations to Sachin Tendulkar for becoming the first person ever to score 50 test hundreds, absolute superstar," Bopanna tweeted.
"Congratulations, you have brought honour to our country," Mangeshkar said.
Former Union Minister of State for External Affairs Shashi Tharoor wrote, "Tendulkar's 50th Test hundred amongst his most important for India, saved us from humiliation, thrilled."
Cricket commentator Harsha Bhogle also congratulated and termed it as a "great moment".
"There is little doubt in my mind that this is one of the great moments in Test cricket," he wrote.