India off-spinner Harbhajan Singh on Wednesday doffed his hat on Jacques Kallis, who hit a century in each innings of the third Test in Cape Town, describing the South African batsman as the best modern cricketer after Sachin Tendulkar.
"Kallis is in the form of his life. We all know that he has got the records to speak for himself. I rate him very high;y. After Tendulkar, I think Kallis is the best cricketer in the world," Harbhajan said of Kallis who single-handedly set India a target of 340 to win the series-decider.
Asked how he felt bowling to Kallis when he was set, Harbhajan said, "It was not demoralizing. It was a challenge to bowl to him. I've got him out on many occasions but I've not been able to get him out this series."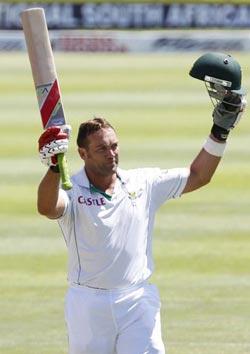 "On the first day it was overcast and the ball was doing a lot. He played well then and now again in the second innings he's shown how good he is," said Harbhajan.
Kallis on Wednesday scored his 40th Test hundred to go past Australian Ricky Ponting and become the batsman with second highest number of centuries. He is now second only to Tendulkar, who has scored an incredible 51 hundreds.
Kallis also became only the sixth South African to score centuries in both innings of a Test match and first to do so at home. He has now achieved the feat twice as he had earlier scored 155 and 100 not out in Karachi in 2007.