Bikash Mohapatra reports from Northamptonshire
The Indian team woke up on Thursday morning to what was not a very pleasant sight.
After days of bright sunshine, it was pouring, putting paid to hopes of having some practice, even if it was an optional session.
Having suffered successive thrashings at Lord's and Trent Bridge, the Indians were hoping to use the two-day match against Northants, captained by South African international Andrew Hall, to brush up their skills before the all-important third Test at Edgbaston (Birmingham) next week.
However, a wet pitch at the County Ground meant they had to do with the indoor facility.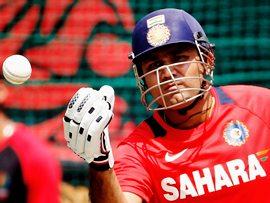 Virender Sehwag came and left early.
The 32-year-old seemed much focused, a positive sign considering the expectations from him in the third Test.
Sachin Tendulkar and Gautam Gambhir had extended batting sessions and it was a surprising sight to see Praveen Kumar focusing on his batting.
The success of Tim Bresnan with the bat at Trent Bridge probably made the Indian think tank ask Kumar to concentrate on making a significant contribution down the order. 
And, then, there was Zaheer Khan. The 32-year-old bowler came on to bowl on Wednesday, the day the team landed at the venue.
On Thursday he was present, first watching his teammates go about their routine before getting into the action himself, and bowling long after his teammates had left the facility.
MS Dhoni and Duncan Fletcher were seen in an extended discussion. The two have been at the receiving end following the visitor's poor run in the series so far and eager to set things on the right track. 
The captain and the coach will be relying a lot on Sehwag and Zaheer to affect a turnaround. The only deterrent to their hopes being the fickle English weather, which, having affected the practice session to a considerable extent, is threatening to affect the two-day game as well.
With rain being forecast for the next 48 hours, the lone practice game ahead of the Edgbaston Test might just be the preparation the visitors don't need.
Blame it on bad planning, yet again!