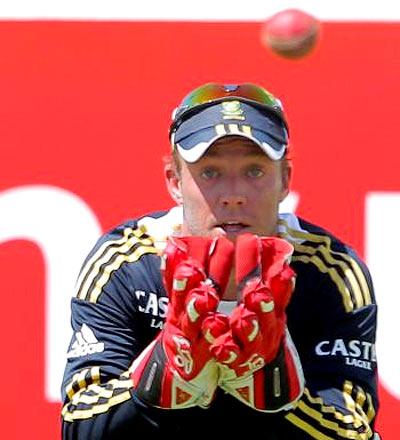 South Africa skipper AB de Villiers on Tuesday waded into controversy over alleged ball-tampering saying he is a bit amazed at the England bowlers' ability to reverse swing the ball "a bit quicker than the rest of the teams" in the ongoing ICC Champions Trophy.

The hosts have been hit by allegations of ball-tampering ahead of their high-voltage semi-final against South Africa at the Oval in London on Wednesday.

"If they are doing something funny with the ball, then it's definitely a concern, yes, but we've got no proof of that. Look, they seem to get it to reverse a bit quicker than the rest of the teams so maybe they've just got really good skill in their bowlers," de Villiers said.
- Champions Trophy: Did England indulge in ball tampering?

"We've tried, as well -- I think all teams try to do that, and we haven't really managed to succeed in that, but we'll try that again tomorrow and see if our bowlers can find that skill to reverse the ball.

"It's something that the umpires and the ICC will probably look into why England and some of the other teams might get it to reverse quicker. All that is really not up to me to decide or to comment on that. But if there is something funny happening, then it's definitely a concern, yes," he added.

Even as Dale Steyn's availability for the match remains in doubt, de Villiers asserted that they have enough firepower to emerge victorious without the world's numero uno fast bowler.

"We have won games without him and with him. It's a semi-final game. It's a big knockout game, and there will be a lot of pressure around, a lot of hype. Not having him on the side will be big for us, but then again, like I said, we're playing good cricket and we're confident we can beat England without Dale," de Villiers said.

"I said before that I don't believe we're lost without him."