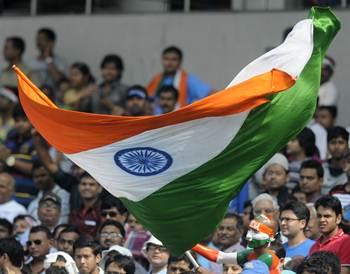 He has stowed away on trains and pedalled his way to cricket venues, and the retirement of his "god" will not stop him from cheering Team India.
Thirty-two-year-old Sudhir Kumar Chaudhary has devoted his life to Sachin Tendulkar. He followed the batting icon everywhere to watch him bat, not only in India, but even cycled to Bangladesh to witness a cricket match, in 2007, and Lahore, Pakistan, in 2006.
"I have dedicated my life to Sachin Sir. I will continue to waive the tri-colour in every match India plays at home. 'Miss U Tendulkar 10' will be written on my back," Sudhir told PTI Bhasha from Kochi, where he has gone to cheer the Indian team in the first One-day International against the West Indies on Thursday.
"I will never let his absence be felt on the ground till my last breath. I will keep cheering the team with the tri-colour painted on my body as always," added the ardent cricket fan.
Sudhir is usually seen with his body painted in the tri-colour, waving the national flag and blowing the conch shell during cricket matches.
He said when the batting icon made his way to the dressing room for the last time, he could not stop crying.
"I could not control myself and cried a lot. When he was delivering his farewell speech, I stood in one corner of the ground and cried. He told me to attend his press conference the next day, but the hall was so crowded that I could not meet him," said Sudhir, who was given a pair of sports shoes as a souvenir by Tendulkar just before his retirement.
"I will meet Sachin Sir after returning from Kochi. He is like a living god for me," he added.
Tendulkar had invited Sudhir into the dressing room after India's World Cup triumph, in 2011 at home, to be pictured with him and the trophy.
That picture made the frail-looking man from Muzaffarpur, in Bihar, famous.
Tendulkar had also ensured Sudhir's entry into the ground during the prize distribution ceremony and his lap of honour after playing his final and 200th Test in the international arena.
"I can never forget that moment (with Tendulkar and World Cup trophy). Sachin Sir has given me the memory of my lifetime. I am only one of his millions fans, but it was so nice of him to do that for me. He is not only a great player but is a great human being as well," he said.
"Cricket is like oxygen for Sachin Sir and I am sure he will comeback in some other capacity to serve the game. I am waiting for that day and will continue to cheer him," he said.
Last week, Reliance Life Insurance signed up to support Sudhir. As part of its corporate social responsibility, Reliance Life will offer financial aid to Sudhir to help him pursue his passion of cheering the Indian cricket team.
Image: Sudhir Chaudhary waves the tri-colour during Sachin Tendulkar's farewell Test at the Wankhede stadium in Mumbai
Photograph: BCCI