NCP president Sharad Pawar fuelled further speculation on getting back into cricket administration when he said that he may be "in some sports body in the future".
Amidst speculations that he may contest the Mumbai Cricket Association (MCA) elections to make a comeback into BCCI, he told reporters that, "right now, I am not associated with BCCI (so I should not comment). I may be with some sports body in the future."
At the height of the recent spot-fixing scandal in IPL before BCCI President N Srinivasan was forced to step aside till pendency of the inquiry, there was speculation that Pawar may contest the MCA elections.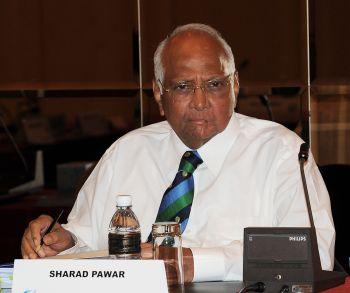 As per rules, one needs to represent a BCCI affiliated unit to take up an office-bearer's position in the country's governing body for cricket. The BCCI AGM is scheduled for September where there is a possibility of an election.
Pawar also said that he endorsed Prime Minister Manmohan Singh's view that politics and sports should not be mixed, saying he never did it during his long association with sports bodies.
"I have been associated with sports for many years but never brought politics into sport. Prime Minister is right when he says that politics should not be mixed with sports," he said.
Pawar declined to comment on the raging spot-fixing and betting controversy which has rocked Indian Premier League with even team owners coming under a cloud.
Photograph: Getty Images