'Depending on the wicket we will determine whether we will play two spinners or not. I think Zampa is the first spinner and he will do really well against the right-handers.'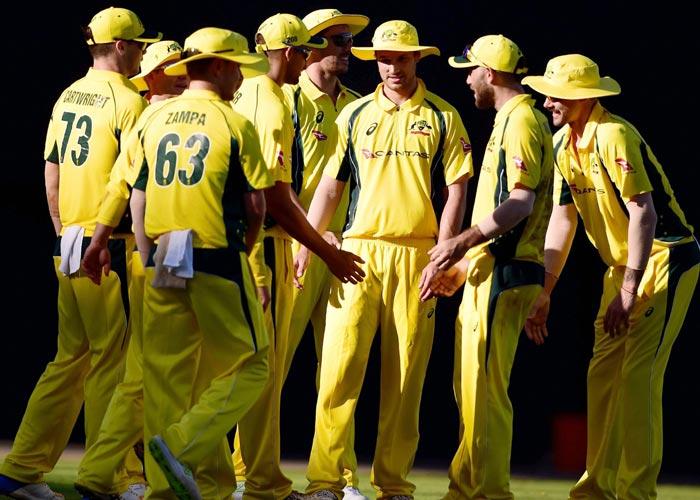 IMAGE: Australia's players celebrate winning the practice match against Board President's XI in Chennai on Tuesday. Photograph: PTI
Australia's left-arm spinner Ashton Agar on Friday said wrist spinners will have a big role to play in the five-match ODI series against India starting on Sunday.

Speaking about the impact of wrist spinners in limited-overs cricket, Agar said: "They (leggies) are a really valuable asset in limited-overs cricket because they can spin the ball both ways.
"When it is night time it can be harder to pick up the wrong 'uns. In general, they are wicket-taking bowlers. They are good attacking options and can be hard to get away," he told reporters in Chennai ahead of Australia's training session.

Referring to his own team-mate leg-spinner Adam Zampa and the two wrist spinners in the Indian line-up -- Yuzvendra Chahal and Kuldeep Yadav, Agar said, "I think they will have a big role in the series, to be fair. There are three of them at the moment. I think they can certainly put more on the ball.

"They don't need more of the spin friendly wicket to spin the ball and they are all pretty clever, the three leg-spinners –- Chahal, especially Zamps, with his slider and wrong 'un, he's got a lot of different balls and he knows when to use them. It will be Interesting to see how they play out."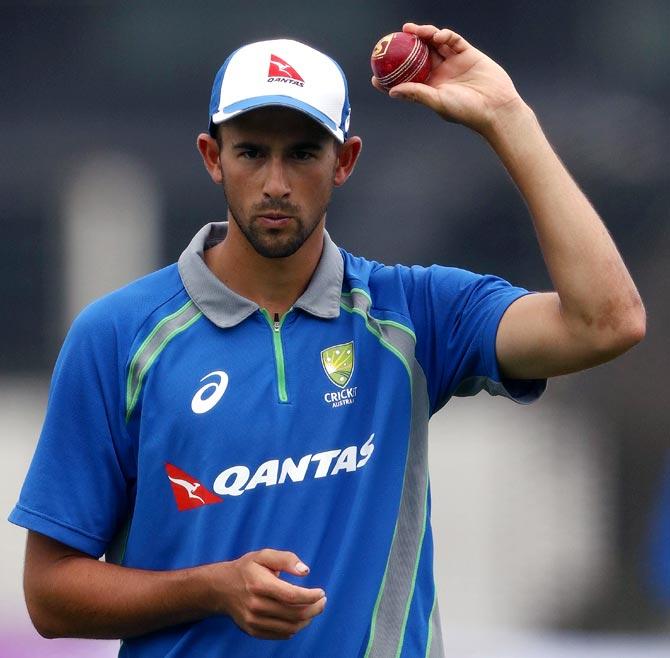 IMAGE: Australia's left-arm spinner Ashton Agar. Photograph: Robert Cianflone/Getty Images

The lanky left-arm spinner said there is a possibility of him figuring in the playing eleven along with Zampa.

"It all depends on the wicket. I guess Adam is obviously the frontline spinner in this squad and he has bowled really well in the IPL and previous tours. If the wicket permits, there may be a chance that both can play in the eleven," he said.

Agar, who made his Test debut in the 2013 Ashes against England and scored 98 batting at No.11, said it is good to be back after a long time in the recent Test series against Bangladesh.

"I was so happy to be back. I felt a lot more calm and a lot more comfortable out there. It's amazing what four years of experience can do and just a little bit of age in general. I was pleased with the way I performed. It was nice to finish on a high," the 23-year-old Western Australian said.

It has been two years since he last played an ODI but Agar believes he is better prepared and can do well if given the opportunity.

"A lot of cricket has been played in that time. It's more your cricketing smarts, your experience and bits of confidence and taking that to the middle," he said.

"I have done a hell of a lot of work since 2015 and I know my game a lot better. I know what will work for me in the middle a lot better.

"Really, self-belief is everything at this level. When you don't, which is when things come undone. My self-belief is high at the moment and am feeling good," he added.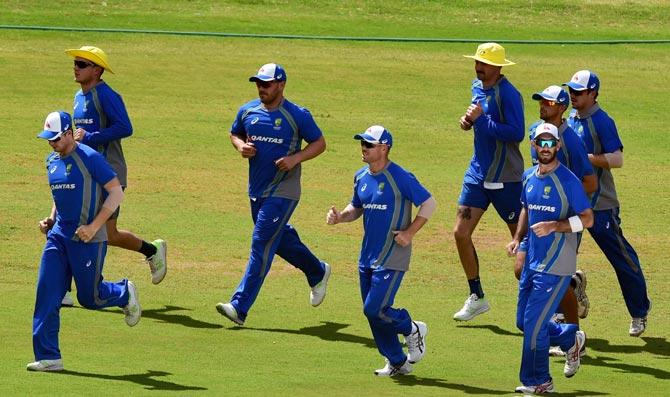 IMAGE: Australia's players during a training session in Chennai. Photograph: PTI
In-form India opener Shikhar Dhawan will not be a part of the first three ODIs against Australia as he has to attend to his unwell wife. His absence means India won't have a left-right opening combination.

Asked if that would be an advantage, Agar said, "Yeah, I think Shikhar is in form. So, him not playing is a positive for us. But I pray for him.

"Yeah, it can be hard when you have a left-right combination, when the ball is swinging a certain way. That's certainly an advantage for us."

Agar said they had planned well for the Indian batting line-up which has a lot of right-handed batsmen and expressed hope that Zampa would do really well against them.

"Depending on the wicket we will determine whether we will play two spinners or not. I think Zampa is the first spinner and he will do really well against the right-handers," he said.

"It is harder to play the ball that is spinning away. And If I get a chance, we will try to bowl really well in partnership together. I think we have planned well and are ready to take on the right-handers."