Will India pick three fast bowlers or three spinners, asks Harish Kotian.
Play Selector and help Captain Virat Kohli and Coach Ravi Shastri pick the Indian team for Sunday's first ODI against Australia in Chennai.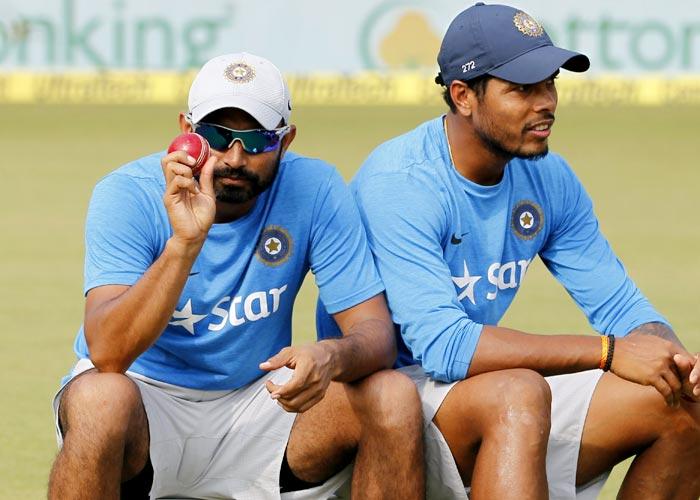 IMAGE: Fast bowlers Mohammed Shami and Umesh Yadav. Photograph: BCCI
After an easy outing in Sri Lanka when they won everything on offer, India will face a much stiffer challenge when they take on World champions Australia in a five-match ODI series, starting in Chennai on Sunday.
India, who won the Test, ODI and T20I series in Sri Lanka, will be high on confidence against the Steve Smith-led Australians whom they had beaten 2-1 in a four-Test series earlier this year.
After trying out players during the limited over series in Sri Lanka, India strengthened their squad by bringing back frontline pace bowlers Umesh Yadav and Mohammed Shami.
That has left Captain Virat Kohli and Coach Ravi Shastri with a dilemma about which two fast bowlers to pick among Shami, Umesh, Bhuvneshwar Kumar and Jasprit Bumrah.
With spinners Ravichandran Ashwin and Ravindra Jadeja given a break for the first three games of the ODI series, the trio of Axar Patel, Kuldeep Yadav and Yuzvendra Chahal will get another chance to prove their worth at the international level.
Part-time spinner Kedar Jadhav's ability to pick up wickets in the middle overs also makes him a handy player in Indian conditions while all-rounder Hardik Pandya is a definite starter with his inclusion adding flexibility to the line-up.
In a sudden development, opener Shikhar Dhawan was released from the squad for the first three ODIs to attend to his ailing wife.
With the BCCI deciding not to name a replacement for Dhawan, it remains to be seen who will open the innings.v
India's experiment of trying out Test opener K L Rahul at No 4 in the limited overs team failed in Sri Lanka.
Manish Pandey staked a claim for a place in the middle order with a couple of good innings in Sri Lanka, which means Rahul could open the innings with Rohit Sharma.
Ajinkya Rahane too will be in the running to open the innings.
With India using these games to identify players for the 50 overs World Cup in 2019, they will no doubt be keen to give every cricketer in contention a chance out in the middle.
When he is fit, there is no doubting Shami's ability with the ball and India will be keen to get their premier fast bowler into the thick of things against a dangerous batting line-up like Australia.
Umesh too will be keen to fire with the ball after being rested for the limited overs series in Sri Lanka.
Will India pick three fast bowlers or three spinners?
Please click the boxes below to select Your India team for the first ODI: