India has played four Test matches so far at the Punjab Cricket Association Stadium in Mohali, near Chandigarh.
The first was against the West Indies, which the hosts lost. The next two against Sri Lanka and New Zealand were drawn. India finally registered a victory on the ground when it beat England in the first Test of the 2001-02 series.
The first Test at Mohali began on December 10, 1994. Winning the toss, West Indies captain Courtney Walsh elected to bat.
The Windies put up a formidable 443 in their first innings, with Jimmy Adams being the key contributor with an unbeaten 174. Anil Kumble took four wickets for 90 and was the best Indian bowler on display.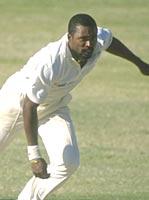 India's reply was led by opener Manoj Prabhakar who scored 120 in the team's total of 387. Javagal Srinath was the second highest scorer with 52 runs as the Windies pace bowlers Kenneth Benjamin and Cameron Cuffy took six wickets between them to skittle out the hosts.
The West Indies, who got a vital 56 run first innings lead, went for quick runs in the second innings. Master batsman Brian Lara was promoted as opener and he scored a quickfire 91 from 104 balls. With unbeaten knocks from Adams (78) and Keith Arthurton (70), the Windies declared at 301 for 3, setting India a target of 358 runs.
The Indian bowling was taken to the cleaners as the Windies scored at 5.35 runs per over in their second essay on the fourth day, giving their bowlers enough time to bowl out the opposition.
And so they did!
Led by Benjamin's brilliant spell of 5 for 65, the Windies bowled out the strong Indian batting lineup for a meagre 114 as none of the batsmen crossed 20. Manoj Prabhakar, who was injured, did not bat.
The win helped the Windies draw the three-Test series 1-1. It was the last Test in the series.
Brief Scores:
West Indies (1st Innings): 443 (J C Adams 174*, A C Cummins 50, A R Kumble 4-90)
India (1st Innings): 387 (M Prabhakar 120, J Srinath 52, C E Cuffy 3-80, K C G Benjamin 3-106)
West Indies (2nd Innnings): 301-3 decl (B C Lara 91, J C Adams 78*, K L T Arthurton 70*)
India (2nd Innings): 114-9 (K C G Benjamin 5-65, C A Walsh 3-34)
Result: West Indies won by 243 runs
The second Test at Mohali began on November 19, 1997. Indian captain Sachin Tendulkar won the toss and elected to field.
Sri Lanka, riding on Marvan Atapattu's century (108), scored 369 in their first innings. Fast bowlers Abey Kuruvilla with four for 88 and Javagal Srinath (4 for 92) led the bowling.
Navjot Singh Sidhu's 131 and Sourav Ganguly's 109 helped India post a mammoth 515 for 9 declared. But the reply was far too slow as runs were scored at 2.49 per over.
Trailing by 146 runs, Sri Lanka ran into early trouble as they were reduced to four for 82. But Aravinda de Silva held fort with a brilliant 110 not out as they salvaged a draw.
Brief Scores:
Sri Lanka (1st Innings): 369 (M S Atapattu 108, S T Jayasuriya 53, A Kuruvilla 4-88, J Srinath 4-92)
India (1st Innings): 515-9 decl (N S Sidhu 131, S C Ganguly 109, N R Mongia 57, M Muralitharan 3-174)
Sri Lanka (2nd Innings): 256-6 (P A de Silva 110*, J Srinath 3-75)
Result: Draw
Mohali's third Test saw the hosts taking on New Zealand starting October 10, 1999.
It was a rare sight in India as the curator dished out a green top and New Zealand captain Stephen Fleming had no hestitation in electing to bowl.
His bowlers lived upto expectation as the formidable Indian batting lineup was bundled out for just 83, India's lowest score against New Zealand.
Dion Nash took 6 for 27 as the Indian batting folded within 27 overs on the first morning. It is still the best bowling performance at Mohali.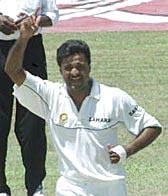 But India also replied strongly with the ball as the Kiwis were bowled out for 215. Javagal Srinath with six for 45 was India's saviour as they looked to claw their way back into the match.
India then made up for the first innings disappointment as all the batsman got among the runs with a vengeance. India scored a mammoth 505 for 3 declared. Rahul Dravid scored 144 and put on a third-wicket partnership of 229 with Sachin Tendulkar who made 126 not out.
Set a target of 374, the New Zealand batsmen fought hard for a draw, making 251 for 7 as India failed to bowl them out on the final day.
Anil Kumble toiled hard picking up 3 for 42 in 41 overs.
Brief Scores:
India (1st Innings): 83 (D J Nash 6-27)
New Zealand (1st Innings): 215 (C M Spearman 51, J Srinath 6-45)
India (2nd Innings): 505-3 decl (R S Dravid 144, S R Tendulkar 126*, D J Gandhi 75, S Ramesh 73, S C Ganguly 64*)
New Zealand (2nd Innings): 251-7 (S P Fleming 73, A R Kumble 3-42)
Result: Draw
The fourth Test at Mohali was played against England, starting December 3, 2001.
The pitch looked good from a fast bowler's point of view. Sourav Ganguly won the toss and sent the tourists in.
Batting first, England looked set for a big first innings score as Marcus Trescothick with 66 and Nasser Hussain with 85 promised much. But off-spinner Harbahajan Singh picked up five wickets for 51 to restrict England to 238.
India then seized the initiative and posted a huge first innings score to take a big lead. Opener Deep Dasgupta scored 100 while Rahul Dravid with 86 and Sachin Tendulkar with 88 helped India to 469, a lead of 231 runs.
England struggled in their second innings, managing just 235. Anil Kumble with six for 81 led the bowling. Only Graham Thorpe (62) and Trescothick (46) showed some resistance.
Set to score five runs for a win, the match ended on the second delivery of the Indian chase.
India won by 10 wickets to take a 1-0 lead in the three-Test series.
Brief scores:
England (1st Innings): 238 (N Hussain 85, M E Trescothick 66, Harbhajan Singh 5-51)
India (1st Innings): 469 (D Dasgupta 100, S R Tendulkar 88, R S Dravid 86, R K J Dawson 4-134)
England (2nd Innings): 235 (G P Thorpe 62, M E Trescothick 46, A R Kumble 6-81)
India (2nd Innings): 5-0
Result: India won by 10 wickets