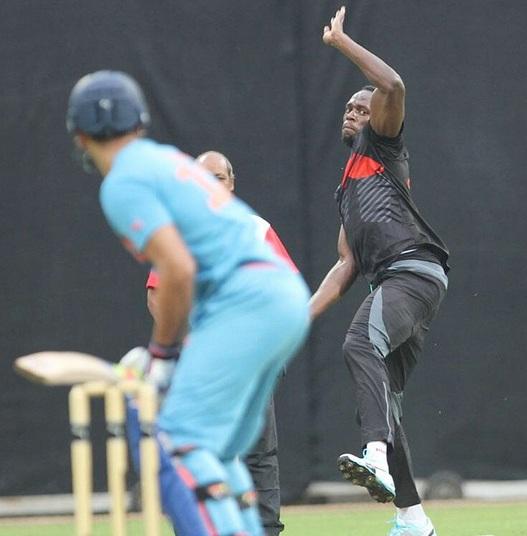 Fury of Speed coming at you, says Usain Bolt. Photograph: Courtesy: Instagram
Usain Bolt showcased his cricketing talent in front of an enthusiastic 6000-odd crowd in Bangalore on Tuesday.
Indian fans who turned up at the Chinnaswamy Stadium got a glimpse of the 'fastest man on earth' as his team beat a Yuvraj-led side in seven-a-side cricket match.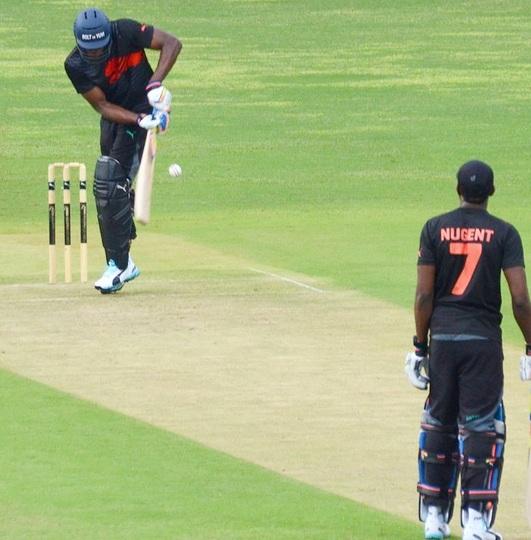 'Look that shot.. Catalogue of class shots were on display today'. Photograph: Courtesy: Instagram
Team Bolt clinched a thrilling last-ball victory over Team Yuvraj in the match which had four overs for each team.
The Jamaican, the first man to win six Olympic sprint gold medals, blasted his way to a 19-ball 45, studded with five sixes, including three off Yuvraj, as his team chased down the 59-run target off the last ball of the match.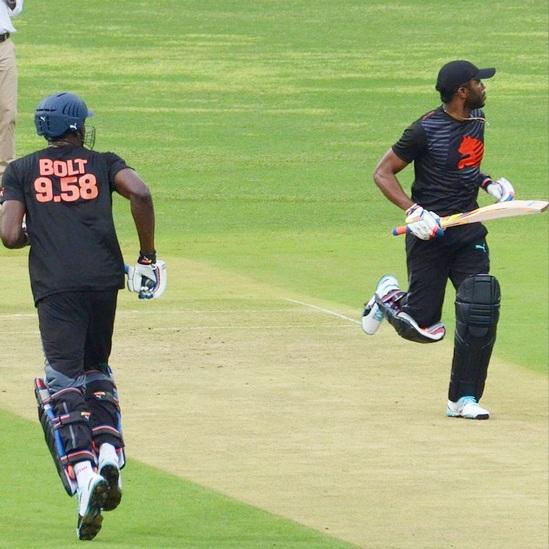 You see dat and we dat.. India Loud today.. said the unstoppable Bolt. Photograph: Courtesy: Instagram
Team Bolt comprised his best friend Nugent Walker Junior and Indian spinner Harbhajan Singh among others, while India's 2011 Cricket World Cup-winning hero Yuvraj had pacer Zaheer Khan among others in his team for the face-off, titled 'Bolt and Yuvi – Battle of the Legends'.
Team Bolt required 10 runs off the last two balls and off the first ball Bolt hammered part-time off-spinner Aditya Tare for a six straight over his head.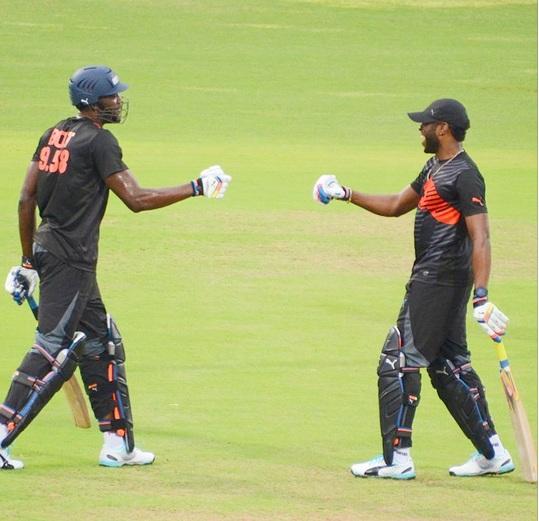 Cricket lovely Cricket..Was great fun in India.. 6's and 4's rained from the sky, said Bolt. Photograph: Courtesy: Instagram
With four runs required off the last ball, Bolt tried a massive heave but missed. Just when Yuvraj and his team started to celebrate, Ajay Jadeja, who hosted the match, played his part to the script of entertainment value of the contest.
He called a no-ball much to the delight of Bolt, who did not lose the opportunity to whack the free-hit out of the park for a six, helping his side pull off victory.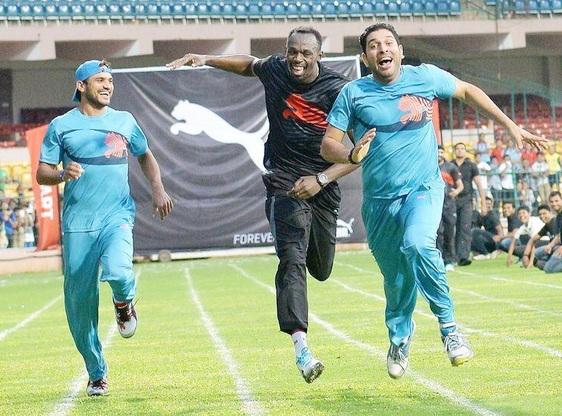 Yuvraj Singh 'beat' Usain Bolt in the sprint. Photograph: Courtesy: Instagram
Yuvraj, though, had 'sweet revenge' as he 'defeated' Bolt in the 100 metre sprint on the track, which culminated the spectacular event, played in an electrifying atmosphere.
Bolt, who holds World 100 and 200 metres World records, 'allowed' Yuvraj to win the race. As he went past the finishing line, Yuvraj celebrated the 'victory' in mobot-style, as Bolt had done during 2012 London Olympics, imitating celebrated British long distance runner Mo Farah.