Kerala government and other sport lovers of the state on Sunday welcomed the Board of Control for Cricket in India's decision to give approval to Kochi IPL team.
State Sports Minister M Vijayakumar said that government was generally happy with BCCI decision.
Former union minister and mentor of Kochi IPL team Shashi Tharoor, MP, said, "today is a good day for sports lovers and those who wish development in Kerala."
Tharoor, who had to resign from Union Ministry following a row triggered over the formation of Kochi Team, said though he had to make some sacrifices, the most important was that at the end Kerala got the team.
"That is what I wished always", Tharoor, who was elected to parliament from Thiruvananthapuram said.
"The recognition to the team would give a boost to the development prospects of the state. It would also promote tourism in a big way," he added.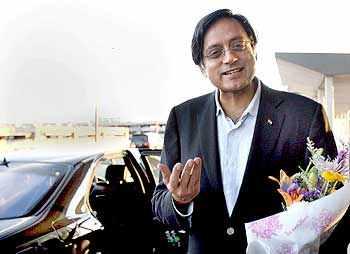 Tharoor also said that he had no connection with the business part of the team formation. But they used to seek my advice on certain matters', he said.
"Any how I'm only an individual. My situation has no relevance in the present context. Coming of IPL to Kerala will contribute for the development of the state," Tharoor said.
National player from Kerala S Sreesanth said that he would like to play for Kochi team. However, he said that he was in auction, so, he cannot say whether he would become part of the team or not.
"Any how playing for a home team will give me much joy than anything else," Sreesanth said.
Welcoming the BCCI decision, Sreesanth said IPL matches would not only promote spots in Kerala but also its tourism destinations.
Kerala Cricket Association Secretary T C Mathew expressed confidence of putting up the necessary infrastructure for the matches before next April.
"We are confident that KCA will be able to host all seven matches," Mathew said. The matches could be played in Jawaharal Nehru International Stadium in Kochi.
On BCCI decision, Mathew said that it was a good boost to Kerala cricket.