Fitness clouds and selection dilemmas could hamper South Africa's chances ahead of next month's series against Australia.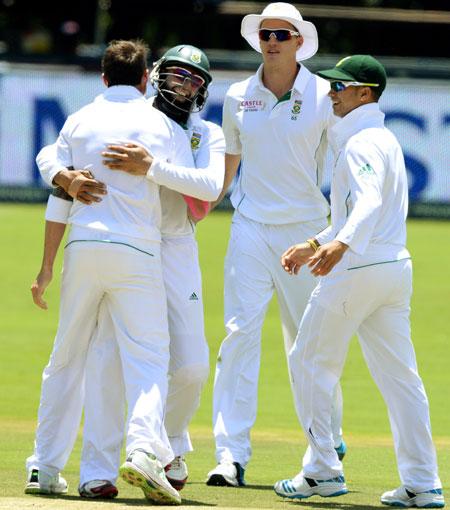 Pacer Dale Steyn, who has a minor rib fracture, and AB de Villiers, who has had an operation to remove a plate from his hand, are expected to recover in time for the three-Test series. However, the timing is not right as the world's No.1 team prepares to confront a resurgent Australia.
Selection dilemma over the right replacement for retired allrounder Jacques Kallis, who effectively performed the role of two players in the South African team, also continues.
Former South African all rounder Clive Rice believes the Proteas are vulnerable following Kallis's retirement, The Sydney Morning Herald reports.
Speaking on RSN Breakfast Radio, Rice said Australia is riding high on the Ashes feats of its pace attack, which has claimed the status of the 'best in the world'.
He said Australia knows how to win and want to win and go about it on that basis, that is the difference between the two sides.
South African team manager Mohammad Moosajee had said that De Villiers had surgery to remove a plate that was inserted after an old hand injury and should be ready in time for the series against Australia in February.
Steyn hurt his rib diving for a ball during the Durban Test against India, but Moosajee said he was not in doubt for the Australia series, which starts at the Centurion on February 12.
South Africans will be tougher opponents for Australians
Meanwhile, the South African batting line up is in much better shape in comparison to England and will prove to be a tougher opponent for Australia during their Test series next month, according to former Proteas ODI and Twenty20 captain Johan Botha.
Team South AfricaHashim Amla, AB de Villiers and Faf du Plessis will enter next month's series having averaged above 60 since the start of 2012. Captain Graeme Smith has averaged 49 in that time while Alviro Petersen and Jean-Paul Duminy are in the low 40s.
By comparison, England's senior five of Alastair Cook, Jonathan Trott, Ian Bell, Kevin Pietersen and Matt Prior all arrived in Australia for the Ashes with their form down markedly from 2011-12 when they were ranked No.1 in the world, The Sydney Morning Herald reports.
Botha wants to see de Villiers take off the keeping gloves and fill Kallis' vacated No.4 slot and uncapped wicketkeeper Quinton de Kock to take over behind the stumps.
He said De Kock has been excellent in one-day cricket and it'd be a smooth transition for him to come into the Test team and bat at seven.
Conceding that there is no player capable of filling Kallis' shoes as a fourth seamer, Botha believes du Plessis and Duminy, with their part-time spin, could enable the Proteas to play a four-pronged pace attack against the Australians.