England coach Andy Flower has dismissed reports that he had issued an ultimatum to the England and Wales Cricket Board (ECB) over misfiring star batsman Kevin Pietersen as 'totally inaccurate'.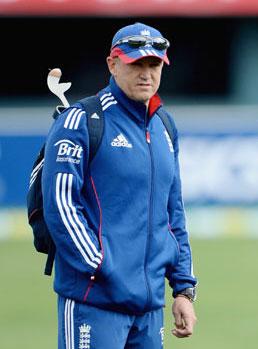 A British newspaper claimed that Flower was ready to quit unless he was given guarantees that Pietersen would not be selected to play under him in the fallout following the 5-0 Ashes series humiliation at the hands of Australia.
According to the Sydney Morning Herald, however, Flower said in a statement that no snap decisions would be made despite the humbling by England's oldest rivals, adding that the reports of him issued an ultimatum of some description to the ECB are totally inaccurate.
Flower further said that it would be sensible and responsible to review the tour in a calm and logical manner before assessing England's options for the future and planning ahead, and insisted that neither he nor the ECB have made any decisions as to the future involvement of any individuals in the playing group or in the support staff.
The report mentioned that the alleged ultimatum follows rumours of a breakdown in the duo's relationship, reportedly sparked by Pietersen, who is not in the squad for the upcoming ODIs against Australia, making himself unavailable for one-day international matches last year in order to play in the lucrative Indian Premier League (IPL).
ECB's new managing director Paul Downton will conduct an internal review of the Ashes whitewash when the futures of Flower, Pietersen and skipper Alastair Cook among others will be discussed, the report added.